Former President Jimmy Carter, 'Not Feeling Well,' Leaves Guyana Ahead Of Schedule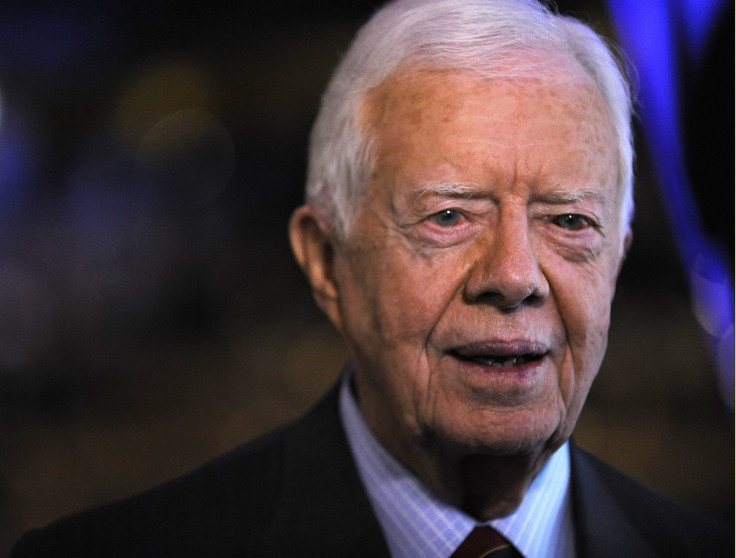 Former U.S. President Jimmy Carter, 90, has cut short a trip to Guyana, citing health concerns. The Carter Center issued a statement Sunday affirming that Carter was "not feeling well and has departed Guyana to return to Atlanta today."
The center did not disclose any details about Carter's health issues.
The ex-president was in the South American country as part of his global-justice foundation's international election-monitoring program. The observation of the Guyanese elections for the fourth time marks the 100th such mission carried out by the Carter Center. The observation will continue in Carter's absence.
The Caribbean News Desk reported Carter began feeling symptoms Saturday night and received initial medical treatement before arranging to fly back to the U.S. with a 13-member delegation Sunday. He had been scheduled to leave Guyana Tuesday, one day after elections concluded.
Carter was hospitalized in 2010 after he developed an upset stomach on a flight to Cleveland. The Nobel Peace Prize winner has been a fixture in global human-rights campaigns, championing health care, fair elections and conflict resolution.
Before leaving Guyana, Carter managed to hold talks with presidential candidates, including incumbent Donald Ramotar and challenger David Granger. The government of the nation with a population of 800,000 had come under fire for putting off parliamentary elections in 2014.
Carter was among the leading voices pushing for the resumption of free Guyanese elections in 1992. They had been challenged by political instability. Guyanese politics have long run along racial lines, with Afro-Guyanese coalitions siding against citizens of Indian descent. Elections in 1997 were marred by violence.
Carter was elected president in 1976. He lost his re-election bid to Ronald Reagan in 1980.
© Copyright IBTimes 2023. All rights reserved.