Joe Biden For President 2016? Vice President Considers Presidential Decision As Politicians And Pundits Weigh In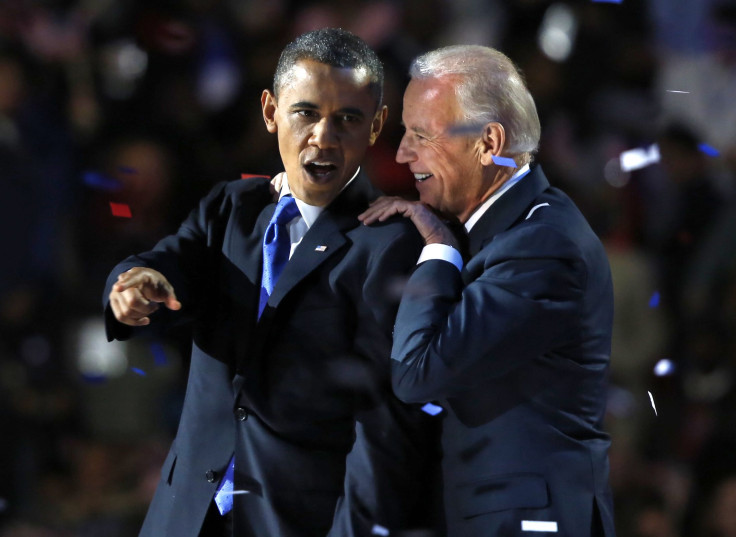 As Vermont Sen. Bernie Sanders draws huge crowds to Iowa and New Hampshire, challenging the certainty of Hillary Clinton's nomination as the Democratic candidate for president of the United States in 2016, Vice President Joe Biden has continued to mull his own potential presidential candidacy in apparent accordance with the wishes of his dying son. While Biden and his supporters have never ruled out his running in 2016, apparent disinterest from voters and the seeming inevitability of Clinton's primary victory has kept the vice president out of presidential discussion -- until the New York Times reported Saturday that Biden has begun to "actively explore" another campaign after the death of his son, Beau, in May.
The response to the Times report has been mixed, with advisers, pundits and politicians weighing the possibility of another Biden presidential run. While many close to the vice president believe he could offer a strong challenge to Clinton by courting voters reluctant to support the former secretary of state, other suggest that any announcement would be too late in the season to launch a serious bid for candidacy.
Biden's press secretary, Kendra Barkoff, sidestepped speculation after the Saturday report in a statement to NBC Monday. "As the Biden family continues to go through this difficult time, the vice president is focused on his family and immersed in his work," she said.
However, a political adviser for the vice president told ABC News Sunday on "This Week" that Biden "is 90 percent in" as "his political team has been ramping up in recent days, entering what they call a more active phase."
Michael Thornton, a Boston lawyer and longtime supporter close to Biden, told the New York Times that Beau's desire for his father to run may influence the vice president. "I thought initially he wouldn't have the heart" to run, he said. "But I've had indications that maybe he does want to — and 'that's what Beau would've wanted me to do.'"
David Axelrod, a former senior advisor to Obama and one of the masterminds behind the president's successful 2008 campaign, said Monday on NBC's "Today" show that he would not advise Biden to seek the party's nomination because he knows "what it takes to put a presidential campaign together, and it is late in the game," adding that "Secretary Clinton, for all of her problems…still has a very high rating among Democrats, and that of course is what determines who the nominee will be, and a big head start." Axelrod, heartened by the outpouring of support following the death of Biden's son, said, "The emotion is powerful, but it isn't enough to make a decision to run for president."
Part of the appeal of Biden as a nominee for the Democratic Party would be his broader appeal and affability compared to the more divisive Clinton. A Quinnipiac poll released on Thursday claimed that only 37 percent of voters said Clinton was "honest and trustworthy," while 57 percent believed she wasn't. Biden's numbers were nearly reversed, with 58 percent finding him trustworthy and only 34 percent claiming he was not.
While 49 percent of voters have a favorable opinion of Biden, only 40 percent have a favorable opinion of Clinton, according to the poll.
The Obama administration has been tight-lipped about whether it would support Clinton or Biden, and White House Press Secretary Josh Earnest was equally evasive Monday during an interview on MSNBC's "Morning Joe."
"What the president has long said is that choosing Joe Biden to be his running mate is the smartest decision he ever made in politics," Earnest said. "Joe Biden has served the country and this president very well as vice president. … To be honest, I don't have a lot of insight into what Vice President Biden is thinking about right now."
Biden ran his first campaign for president in 1988 as a U.S. senator from Delaware and was widely considered one of the strongest candidates in the Democratic Party until allegations of plagiarizing speeches and exaggerating his academic performance forced him to withdraw. He launched another failed attempt at the White House in 2008, dropping out after winning just 1 percent of the vote in the Iowa, but he was chosen by Obama as his vice presidential running mate.
He announced in February that he would make a decision regarding his presidential candidacy by the end of the summer, and several aides echoed that estimate by predicting he would announce his post-Obama-administration plans by August, the Boston Globe reported.
"It's as likely I run as I don't run," Biden said on "The View" in February 2014. Everything I think I would have to do to be a viable candidate is the same exact thing I should be doing to be the best vice president I can possibly be."
Biden said later that month that his campaign would focus on income inequality, according to an interview with Politico's Glenn Thrush, the New Yorker reported. "It's either going to be me or someone else who is going to make this argument in the Democratic Party."
"He is definitely thinking about it. Not just for show," a former aide told NBC's "Meet the Press" Monday. "And there are many people urging him to do it. And some at the very top. "All in all, definitely doable," the former aide continued, adding, "yet at the end of the day I think he will decide to take a pass and instead spend time with family."
Despite polls suggesting Biden's higher rates of favorability, Clinton still retains a 40+ point lead over the vice president, and sources close to Clinton have said that they are still confident in her front-runner status.
"I don't think it in any way changes the focus and mission for those of us supporting Hillary Clinton," Robert Zimmerman, a DNC member and longstanding Clinton supporter who serves on her finance committee, told Politico. "Whether Joe Biden or anyone else gets in the race, it's not going to change the sense of purpose we all feel about Hillary Clinton's campaign."
© Copyright IBTimes 2023. All rights reserved.