Joe Paterno Addresses Fans Outside Home Amid Penn State Scandal [VIDEO]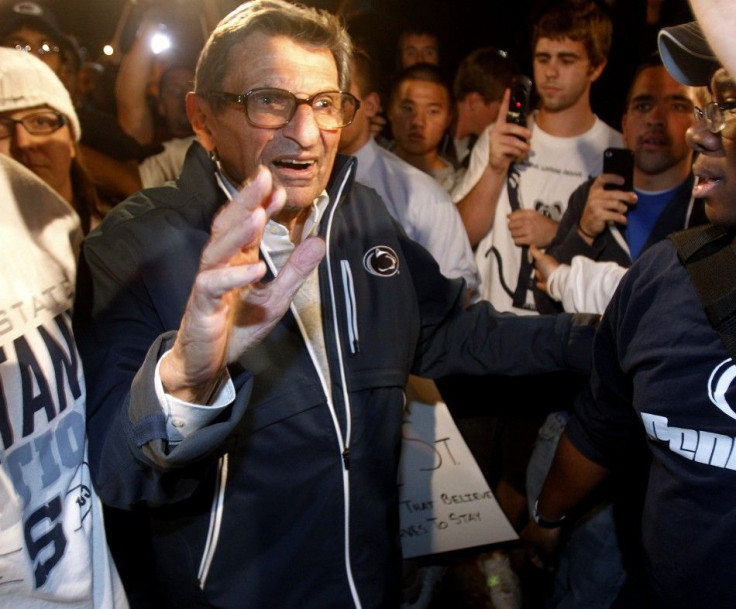 Support for football coach and legend Joe Paterno has declined amid the ever-increasing Penn State Jerry Sandusky scandal. Penn State's board of trustees on Tuesday said that trust for the 84-year-old was eroding, which could possibly put an end to Paterno's storied career.
The New York Times reported on Tuesday that the board has discussed Paterno's departure and how to manage it. The newspaper, citing two people briefed on conversations among the university's top officials, said Paterno's exit could come within days or weeks.
According to ESPN, Trustee David Joyner said he was unaware if any decision had been made on Paterno's future, though.
Paterno's son, Scott, said his father hasn't spoken with Penn State officials or trustees about stepping down.
No one has asked Joe to resign, Scott Paterno told The Associated Press in a text message.
Penn State administrators canceled Paterno's weekly news conference on Tuesday, during which he was expected to make a statement regarding the Sandusky scandal and then take questions about it, as well as take questions about Penn State's upcoming game against Nebraska, though the latter would have probably been to a lesser degree.
Nevertheless, while institutional support for Paterno has appeared to be wavering, fans showed up outside his home Tuesday evening, prompting Paterno to walk outside to make a statement. Afterwards, the chant of Let Joe stay! rang high.
Watch the video of the statement he made outside his home:
© Copyright IBTimes 2023. All rights reserved.