Joel Embiid Net Worth: 76ers All Star Has Second Highest NBA Salary Among Centers
KEY POINTS
Joel Embiid's net worth is around $35 million
His contract is enough to make him the second highest paid center in the NBA
Embiid played professional volleyball before playing basketball
Joel Embiid's net worth is fit for a superstar center in the NBA. But is he the best big man in the league?
There are rumors that Embiid is going to be traded soon. Since the trade deadline has elapsed already, it is safe to say he will be in a Sixers uniform for the rest of the season.
The Philadelphia 76ers have been good this year, but not better as many have expected. With more time to jell between Embiid and Ben Simmons, plus a roster boost in the off-season, fans expected them to challenge the Milwaukee Bucks and the Toronto Raptors atop the Eastern Conference standings. However, the Sixers sit at the fifth spot going to the All-Star break.
He is a superstar with accolades to show. The Sixers center was already named to the All-NBA team and NBA All-Defensive team. He has become a staple in the NBA All Stars. Jojo is a franchise player no doubt, and his skills as a big man who can shoot from the outside is a requirement in today's modern NBA. He can also pass and play defense. The question now is if he is the right partner for Simmons? Soon, the Sixers will figure it out and if the team cannot go deep in the playoffs this year or the next, expect some trades.
Embiid's net worth is around $35 million, per Celebrity Net Worth. He signed a 5-year deal worth $148 million in 2017. His contract is enough to make him the second highest paid center in the NBA, next to Karl Anthony Towns. He is set to become a free agent in 2023, that is if he remains with the team until then.
Aside from a massive salary, he also makes money via endorsements. He hooked up with Under Armour and joined Steph Curry as its ambassadors. Embiid has also represented brands such as Amazon, Electronic Arts, Fanatics, Hulu and Mountain Dew, among others, per Forbes.
It is easy to like Joel Embiid. He has an outgoing personality and often posts amusing videos on his social media accounts. He came from Cameroon and did not play basketball until he was 15 years old. In fact, he used to play volleyball. The 25-year-old center claims he patterns his game to another big man great, Hakeem Olajuwon. Both of them hail from Africa and if Embiid continues to progress and focus on his craft, it might not be too far to think he is the second coming of Olajuwon. He needs a title before doing that though.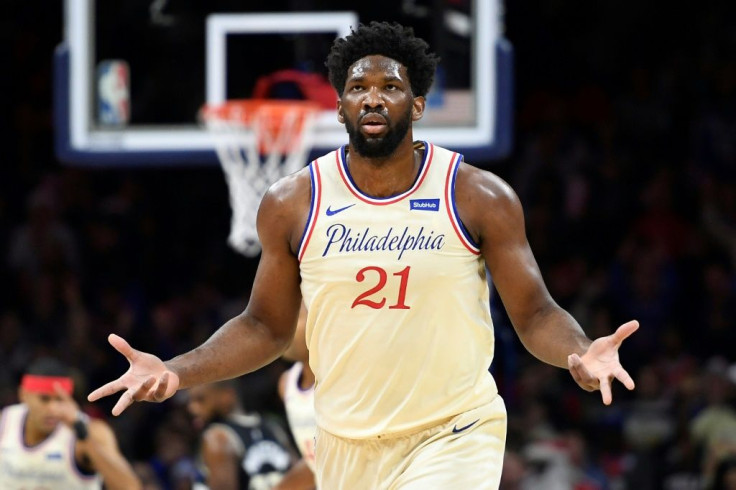 © Copyright IBTimes 2023. All rights reserved.
FOLLOW MORE IBT NEWS ON THE BELOW CHANNELS