John Kasich 2016: Can The Ohio Governor Be President?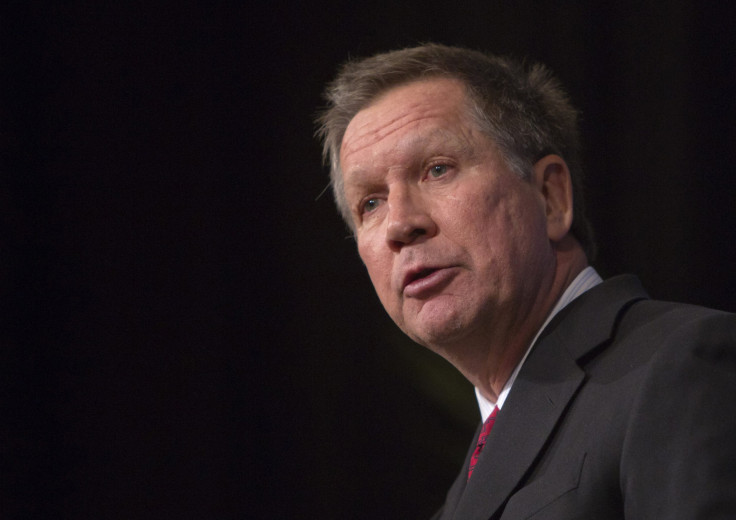 Ohio Gov. John Kasich is in the midst of a multi-state tour to promote a balanced budget amendment. A year from now, Kasich may be making the same speeches that he's making this week in the Dakotas, Wyoming, Utah, Montana and Idaho to push a candidacy for president in early primary states.
As the governor of the second-largest swing state who is known for his independent streak, Kasich would have some appeal in the race for the GOP nomination for president in 2016. But if the Ohio governor runs, he'll likely be facing one of the most crowded and viable Republican field in decades. And the voting bloc that would appeal to Kasich's calls for a balanced budget amendment -- tea party voters -- also find his decision to support the Medicaid expansion portion of Obamacare unpalatable.
"John Kasich presents an interesting option for Republicans. I think he's somebody who very much marches to his own beat and sometimes that ruffles Republican feathers, such as the Medicaid expansion," said Alan Melamed, a Democratic political consultant from Ohio and head of Melamed Communications. "If Gov. Kasich stays with some of the approaches here in Ohio, it may present a challenge, but I think that he offers an interesting alternative and in this stage of the game, it's kind of open to anything."
Perhaps the biggest positive of a Kasich candidacy would be his experience. Kasich served in the House of Representatives from 1983 to 2001 and was elected governor of Ohio in 2011. Experience is a quality admired by Republican primary voters, especially among those who believed President Barack Obama didn't have enough of it to be commander-in-chief. Potential candidates like U.S. Sens. Ted Cruz of Texas and Marco Rubio of Florida, who are both into their first terms, could have that problem.
"When he's going to build his base, I think his years in Congress are something that he can probably build on," Melamed said. Kasich was head of the House Budget Committee for his last six years in office and took credit for inheriting a budget deficit and leaving with a surplus.
Being a governor from the Midwest -- a region of the country that Republicans need to win back after Obama carried states like Ohio, Michigan, Indiana, Wisconsin, Illinois, Minnesota and Iowa -- would also help Kasich. His state, with 18 electoral votes, is the second-biggest prize among presidential swing states.
"You could make a good argument for a Midwestern governor as the Republican presidential nominee," said Larry Sabato, a political science professor and director of the Center for Politics at the University of Virginia. "The Midwest has electoral votes Republicans need to reverse their fortunes in the Electoral College."
But Kasich's potential candidacy could be complicated by Wisconsin Gov. Scott Walker, who is also from the Midwest, is further along in making a decision to run for president and has wider appeal among the Republican base. "He is acceptable to the establishment forces," Sabato said of Kasich. "His problem is going to be with the base because he supported Medicaid expansion. He has been a moderate conservative."
The Ohio governor also doesn't have a broad base of voters. "Who are John Kasich's first-choice voters and groups? I guess Ohio. That's a great state -- more important in a general than a primary -- but exactly who is it that would list John Kasich" as their preferred candidate for president, Sabato said. A campaign platform centered on a balanced budget amendment may not be enough, because no GOP presidential candidate is going to support more budget deficits. Unlike state budgets, the federal budget doesn't have to be balanced.
Another negative for Kasich is his stint at Lehman Brothers -- the face of the financial collapse -- from 2001 until the investment banking firm declared bankruptcy in 2008. Kasich was a managing director in Lehman's Columbus, Ohio, office during that span and earned about $590,000 in salary and bonuses as the company was collapsing, according to the Associated Press. In contrast, Ohio pensions lost $480 million that year in holdings invested through Lehman, according to the AP.
But Lehman-based attacks on Kasich didn't work for then-Ohio Gov. Ted Strickland in 2010 or 2014 Democratic gubernatorial nominee Ed FitzGerald. And it may be even tougher for GOP candidates to use that attack line, according to Melamed.
"We certainly tried to beat him up with that in 2010 and some Republicans may still do that," he said. "I think it's a more different challenge in the face of Republican desires to cut back some of the regulations on Wall Street. It's all fair game in politics and if anyone on the Republican side thinks he's getting some traction, that's a way to paint him as being part of the problem."
At the same time as his Lehman gig, Kasich was also at Fox News, where he hosted "Heartland with John Kasich" from 2001 to 2007. But it's unclear how Kasich's ties to Fox will help or hurt him in a Republican primary.
"When I bring that up, I see a bunch of blank faces," Sabato said. "He was a minor host." Former Arkansas Gov. Mike Huckabee, who ran in 2008 and is strongly considering a 2016 run, is more closely associated with the conservative news channel and quit his "Huckabee" show earlier this month to weigh a 2016 bid.
Another obstacle for Kasich is how to raise his name recognition in a strong Republican field that may include 2012 nominee Mitt Romney, former Florida Gov. Jeb Bush, New Jersey Gov. Chris Christie, Cruz and U.S. Sen. Rand Paul of Kentucky, Melamed said. "His biggest liability is that he's not really known on the national stage and can he break through the clutter of probably at least half a dozen other serious contenders and put together a national campaign," he said.
Kasich has started to do that with this week's tour of mostly Western states. While in South Dakota, the Ohio governor didn't rule out a 2016 run and wouldn't say whether his trip is a springboard for a presidential candidacy.
"It's a privilege to be governor of Ohio ... and that's my focus," he said, according to the AP. "But if I think something else makes sense, if I think the field is lacking or there's an opportunity, I'll look at it. All my options are open."
© Copyright IBTimes 2023. All rights reserved.