John Kerry Promises 'Ironclad' Commitment To Security In South Korea, Condemns North's 'Horrific Conduct'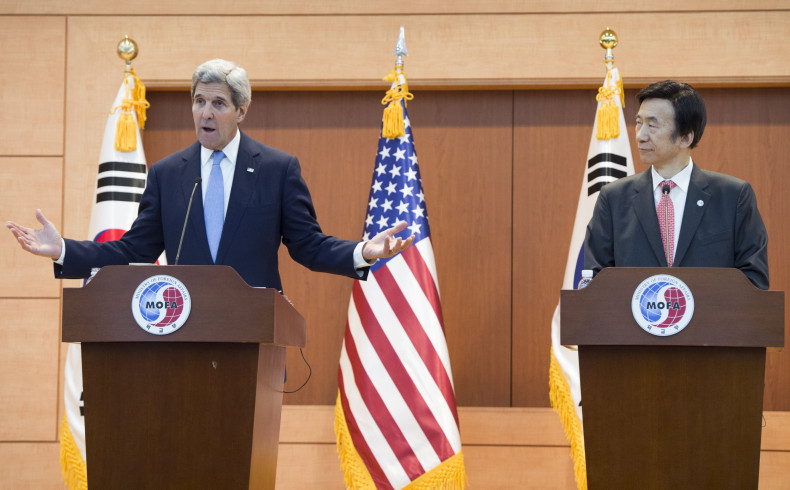 U.S. Secretary of State John Kerry reaffirmed "ironclad" commitment to security in South Korea on Monday, while simultaneously condemning the North for its human rights record and nuclear program. Kerry, who arrived in Seoul on Sunday, said Pyongyang continued to break agreed-upon promises, make provocations, and "show flagrant disregard for international law" with its ongoing nuclear and missile development activity, the Associated Press reported.
Kerry promised to increase pressure on the regime to end its nuclear program. "They have grown the threat of their program and have acted with a kind of reckless abandon," he said at a joint news conference in the capital with South Korean Foreign Minister Yun Byung-se.
North has failed to heed the repeated calls to return to negotiations to discuss ways to end its nuclear weapons development program. Kerry warned that the country's behavior was not in its interests, saying it was "isolating themselves further and creating greater risks to the region and to their own country."
However, he was hopeful that the ongoing nuclear talks with Iran could help restart talks with North Korea. "Perhaps that can serve as an example to North Korea about a better way to move, a better way to try and behave," he said.
North Korea has conducted nuclear tests since 2006, and Chinese nuclear experts have warned that Pyongyang may possess up to 20 warheads despite severe international sanctions. It conducted its third test in 2013, and U.S. experts said it could gain between 20 and 100 weapons by 2020, according to the AP.
Kerry also slammed the North's "horrific conduct" towards its own people.
He commented on the death of North Korea's defense chief, who was allegedly executed by an anti-aircraft gun for complaining about the North's ruler, Kim Jong Un, and sleeping during a meeting, according to South Korean intelligence.
Kerry said the killing was just the latest of Kim's "grotesque, grisly, horrendous, public displays of executions on a whim and fancy," warning that the alleged executions increased the weight behind calls for Pyongyang's government to be prosecuted in the International Criminal Court.
The North Korean leader has reportedly engaged in a spate of executions targeting high-level officials. At least 68 high-ranking officials have been executed for criticizing the leader since he came to power in 2011, among them his aunt Kim Kyong Hui, South Korean intelligence officials reportedly said.
The isolated nation has also taken several other actions, which the South considers provocative. On Thursday, it fired 130 artillery shells into the disputed waters of the Yellow Sea near the border. Earlier in the month, it conducted an underwater test-fire of a newly developed strategic ballistic missile from a submarine, a day after it threatened to launch "targeted strikes" against the South's navy.
© Copyright IBTimes 2022. All rights reserved.