John Kerry Spied On By German Foreign Intelligence Agency During Middle East Negotiations In 2013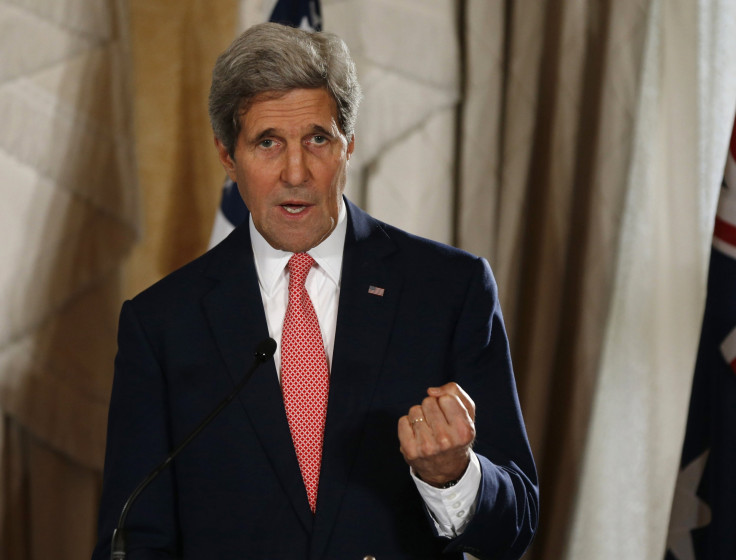 In the wake of reports the German foreign intelligence agency BND spied on Hillary Clinton, Der Spiegel said the agency recorded a phone call of U.S. Secretary of State John Kerry during Middle East negotiations in 2013. Kerry was not a target of the BND, and the recorded conversation was immediately deleted, the weekly newsmagazine said.
In contrast, Der Spiegel said the recording of Clinton's conversation with United Nations Secretary-General Kofi Annan, carried out while she was serving as U.S. secretary of state, was not immediately destroyed.
Kerry's conversation centered on Middle East negotiations involving Israel, the Palestinian territories and several Arab states, Reuters reported. BND picked up Clinton's conversation because it was conducted on the same frequency as terrorist targets BND was tracking, Der Spiegel said.
Media accounts of BND's accidentally recording a conversation with Clinton stated the agency had recorded other "American politicians and other friendly countries," but that it was not intentionally intercepting phone calls. Germany actually was targeting its North Atlantic Treaty Organization, or NATO, ally Turkey, Der Spiegel said Saturday. A BND representative said America was not a target and that any accidental recordings are deleted upon discovery, Reuters said. This month, Der Spiegel also reported Kerry was spied on by Israel's Mossad agency as he attempted to broker a peace deal between the Palestinians and the Israelis.
In 2013, German Chancellor Angela Merkel criticized the U.S. for spying on Germany, following leaks by Edward Snowden, a former contractor at the National Security Agency.
© Copyright IBTimes 2023. All rights reserved.