John Lennon's Piano: 15 Fun Facts About The Iconic Piano Builder Steinway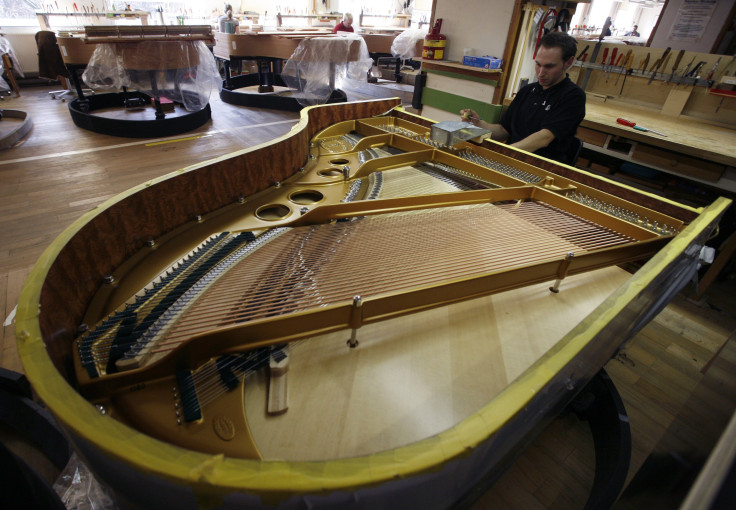 Steinway Musical Instruments (NYSE:LVB), the iconic piano manufacturer in business for more than 160 years, said on Tuesday that a mystery bidder has emerged and offered $38 a share for the company, topping a $35 a share offer from private equity firm Kohlberg & Co.
While Steinway declined to name the bidder, the Financial Times reported on Tuesday that the bidder's identity is hedge fund manager John Paulson, and that his bid values Steinway at about $477 million.
In 1836 Heinrich Englehard Steinway built his first piano in the kitchen of his home in Seesen, Germany, which is commonly referred to as the "Kitchen" piano. The piano is currently on display at the Metropolitan Museum of Art.
Here are 14 other interesting facts about the Waltham, Mass.-based Steinway, courtesy of the company's website.
1. On March 5, 1853, Steinway & Sons was founded, setting up shop on Varrick Street on the West Side of Manhattan, manufacturing square grand pianos.
2. Steinway & Sons opened the first Steinway Hall on 14th Street in 1866, which had an auditorium of 2,000 seats.
3. In 1877, Oberlin College Conservatory, in Oberlin, Ohio, became the first All-Steinway School.
4. In 1888, Theodore Steinway entered into agreement with G. Daimler of Mercedes to manufacture parts for the American Mercedes Automobile, as well as engines and marine engines. This arrangement lasted at least until 1906.
5. In 1900 the retail price of a Steinway Model D was $1,400.
6. In 1930 the retail price for a Steinway Model D was $3,000.
7. In 1990, the retail price for a Steinway Model D was $53,400.
8. In July 1950, Yamaha representatives visited Steinway & Sons and asked to carry the Steinway Pianos in their stores in Japan.
9. In 2000, John Lennon's Steinway vertical piano was sold for more than $2 million dollars to pop star George Michael. This is the piano on which John composed the song "Imagine."
10. Until his death on Sept. 18, 2008, at the age of 93, Henry Z. Steinway, the great-grandson of the Steinway founder, still worked for Steinway and put his signature on custom-made limited edition pianos. Henry Z. Steinway was the last family member to be president of Steinway & Sons.
11. In 2010, the retail price of a Steinway Model D was $123,800
12. There are 12,116 individual parts that make up a Steinway grand piano.
13. The action for just 1 key is made up of more than 57 individual parts (so, for 88 keys, that's approximately 4,500 parts).
14 The world's most expensive Steinway grand piano is a Steinway art case piano built by Steinway's factory in Hamburg, Germany, in 2008 for €1.2 million. It took Steinway about four years to build the piano. The piano is named Sound of Harmony and is decorated with inlays of 40 different woods, including the lid, which replicates artwork by Chinese painter Shi Qi. It was conceived and commissioned by Chinese art collector and music lover, Guo Qingxiang.
© Copyright IBTimes 2023. All rights reserved.
FOLLOW MORE IBT NEWS ON THE BELOW CHANNELS