Jon Jones Is Back In UFC, USADA Lifts Ban, Daniel Cormier Responds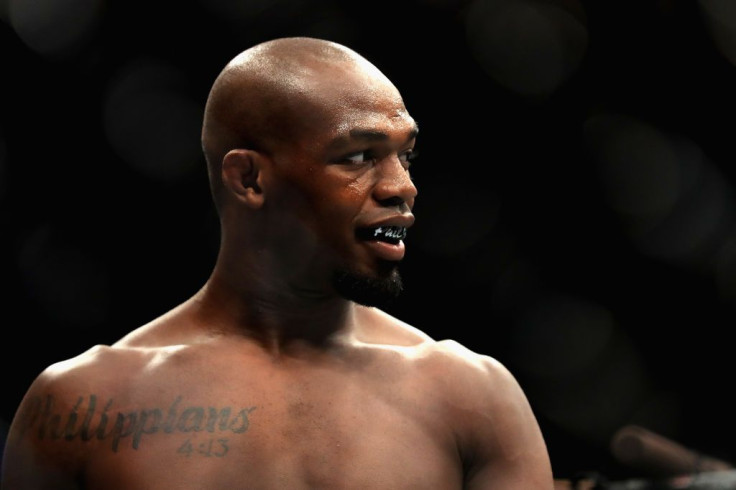 Jon Jones will be free to compete in mixed martial arts again and could find himself headlining the annual Madison Square Garden card for UFC 230 in New York that takes place Nov. 3.
The United States Anti-Doping Agency (USADA) announced Wednesday that Jones was given a 15-month ban, retrospective to the date of his failed drug test from last year. The former UFC light heavyweight champion had tested positive for metabolites of turinabol on July 28, 2017, but will be eligible to return to action by Oct 28.
"It's difficult to express myself at this moment but I can definitely say my heart is filled with gratitude and appreciation," Jones posted on social media after the news. "I want to thank all of you who have stood by me during the toughest stretch of my life."
"It has meant the world to me and always will. But now is the time to shift the focus front and center to the road ahead. Greatness is what I'm chasing and the path to reclaiming my throne is now officially open. Comeback Season begins now," he said.
The failed drug test from last year was the second of Jones' career and according to USADA rules, a second-time offender faced the possibility of a four-year suspension. The Endicott native had already been suspended for a year and fined $205,000 by the California State Athletic Commission but has been let off relatively easy.
A reason for that is because he assisted USADA in turning in evidence of another fighter and/or coach and/or supplier, according to the arbitrator, ultimately reducing his suspension by 30 months.
UFC light heavyweight and heavyweight champion Daniel Cormier was not pleased with the news. It was him who lost his 205-pound title to Jones last year at UFC 214 but with the latter's failed drug test, was reinstated as champion.
Cormier would go on to defend it against Volkan Oezdemir before defeating Stipe Miocic at UFC 226 in July to become just the second simultaneous two-weight champion under the promotion's banner.
He is set for a super fight with Brock Lesnar next and does not plan on putting it aside for a third fight with Jones.
"I'm the UFC double champion," Cormier said on FOX. "I have bosses in the back and I'm talking about this guy because I have too. I've moved past that guy. I went about my business. I went and won another title. Now this guy's suspension is up, so we'll see what happens. I think people get excited, people get excited about the prospect of us fighting again, but I've got a fight with Brock Lesnar."
"Why would I look back? Why would I look back to Jones now when I've got a fight? Obviously as a competitor I want to fight the guy whose beat me twice, but I've got a fight. Why go back? I've got a bigger fight with Brock Lesnar, why should I go back?"
Cormier also seemingly hit out at USADA by telling them to never drug test him again, alluding that Jones was let off easy without any real punishment.
"Here's the deal: When it comes to USADA, they can't come to my house anymore at 6 a.m," Cormier added. "What's the point? They've been to my house 15 times. USADA, don't come to my house anymore. You don't need too. You don't need to come."
"I'm not going to fail a test, I'm not going to make any mistakes, I'm not going to have to sit up there and go, 'I'm serious this time, guys. I promise I wasn't really trying to cheat.' It's never going to happen with me. 70 times. 70 times since I started wrestling internationally and I've never made a mistake. It's not that hard. So even to be sitting here and doing this again shows – guys are ridiculous," he said.
With Jones eligible to return by the end of October, he could be in line to feature at UFC 230. The card is still without a main event and a Jones return would make the most sense as the headliner, even if it's not against Cormier, but another contender like Alexander Gustafsson.
However, UFC president Dana White told ESPN he was looking forward to seeing the 31-year-old return early next year, though his plans could change if there is no other main event he can book.
"The arbitrator found that Jones never intentionally or knowingly took steroids and the result of the positive test was the result of a contaminated substance," White told ESPN. "The science completely supports that finding. The science doesn't lie, so I look forward to getting him back early next year."
© Copyright IBTimes 2023. All rights reserved.