Joseph Kony Bodyguard Brigadier Binani Killed: Is Uganda Close To Capturing Lord's Resistance Army Warlord?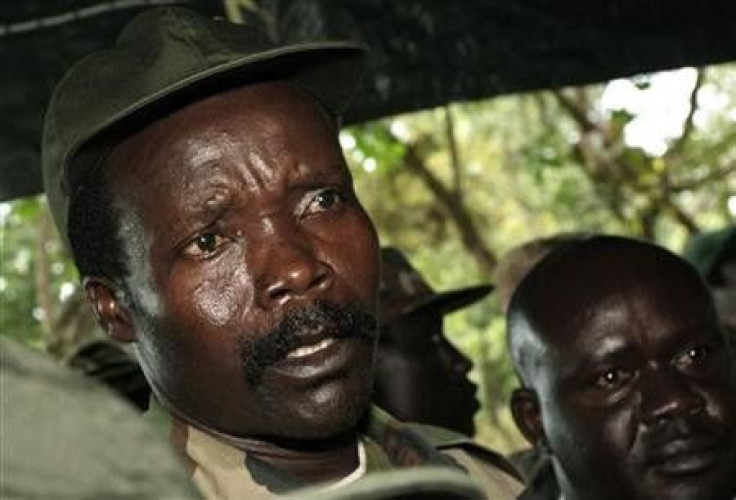 A former top bodyguard of Lord's Resistance Army leader Joseph Kony was killed in Central African Republic in what some view as a sign that Ugandan forces are getting close to the elusive warlord.
Kony was the target of the viral Kony 2012 campaign by the charity Invisible Children. The nonprofit made a video highlighting Kony's use of child soldiers and forcing young girls into prostitution. The campaign gained steam after celebrities such as Oprah Winfrey and Justin Bieber used their Twitter account to publicize Invisible Children's efforts.
Dick Olum, the head of a regional task force trying to find Kony, said Monday that the bodyguard, Brigadier Binani, was killed Friday near Djema in Central African Republic, according to Reuters.
"We encountered Brigadier Binani late on Thursday last week and in the ensuing clash his unit dispersed but we managed to kill him in action," Olum told Reuters.
Kony was indicted by the International Criminal Court in 2005 on war crimes and crimes against humanity charges. He started an uprising in Uganda that later spread to other countries in central Africa, the Associated Press reported.
Olum said the killing of Binani signaled that the task force was close to finding Kony, who has eluded capture since an effort to find him intensified in April 2012.
"Every day we are closing in on Kony and when you have such an encounter with his former bodyguard, it is a very strong sign and encouragement that success is in our grasp," he told Reuters.
It's unclear when Binani stopped working for Kony or whether the former top bodyguard has useful intelligence on the Lord's Resistance Army leader.
Binani was part of a small group of rebels who fought Ugandan forces Friday near Djema. The Central African Republican city houses a base where African Union troops led by Uganda are being advised by U.S. special forces, the AP reported.
Ugandan Col. Felix Kulayige said it's unclear whether Kony was among the rebel forces who fled during the Friday attack.
While Olum described Binani as a former bodyguard for Kony, a Ugandan commander implied Binani is still part of Kony's organization.
Kulayige identified Binani as "a member of the LRA high command.
"He was Kony's chief bodyguard and he was also the LRA's main logistician," the colonel told the AP.
He said the Ugandan-led forces received a tip on the rebels' whereabouts.
"We got intelligence that the group was there and the squads were inserted to pursue them," Kulayige told Agence France Presse.
© Copyright IBTimes 2023. All rights reserved.