Judge's AIG Decision Delivers Victory, But No Damages, To Former CEO Hank Greenberg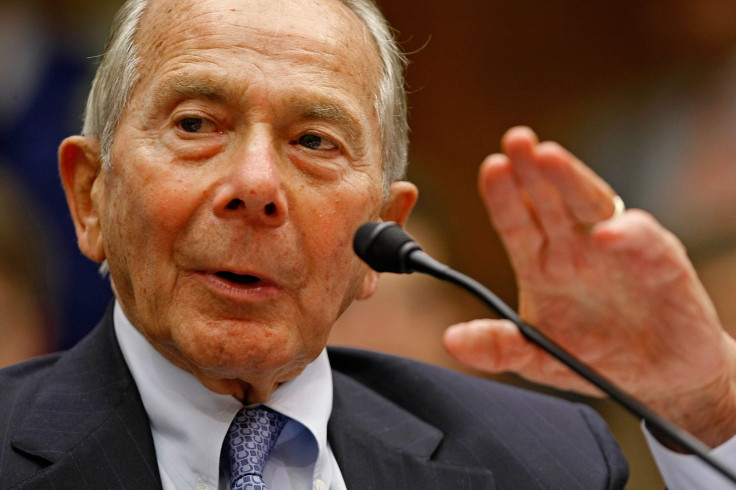 Maurice "Hank" Greenberg won his long-shot case against the U.S. government over its handling of the 2008 American International Group bailout. But the victory proved symbolic, as the court declined to award the former AIG chief, and the AIG shareholders he represented, $40 billion in damages sought.
Judge Thomas Wheeler of the United States Court of Federal Claims wrote in his decision that the Federal Reserve committed "plain violations" of federal law when, in the process of extending life-saving loans to the foundering insurance conglomerate, seized nearly 80 percent of its equity.
"There is no law permitting the Federal Reserve to take over a company and run its business in the commercial world as consideration for a loan," Wheeler wrote in his 75-page opinion.
But the 90-year-old Greenberg, who sued under the aegis of his company Starr International, failed to show that he and other shareholders suffered economic loss in the deal. "The Achilles' heel of Starr's case is that, if not for the government's intervention, AIG would have filed for bankruptcy," Wheeler wrote. Bankruptcy would have likely erased 100 percent of shareholder equity.
The unusual ruling caps a trial that brought in a diverse and high-profile list of witnesses who played indelible roles during the bailouts of the financial crisis. These included former Fed Chairman Ben Bernanke and former Treasury Secretaries Henry Paulson and Timothy Geithner.
But the ruling leaves open the question of how crisis-era government actions, particularly those executed under the authority the Federal Reserve Act, should be accounted for now.
Though Wheeler expressed dismay that he could not draw clear lines around the Fed's statutory authority, he was unsparing in his critique of the regulators who crafted the bailout. "The government's unduly harsh treatment of AIG in comparison to other institutions seemingly was misguided and had no legitimate purpose," he wrote.
Greenberg served as CEO of AIG for decades before stepping down in 2005. He was still a major shareholder in 2008 when the subprime mortgage crisis crippled the company, which had amassed hundreds of billions of dollars in high-risk credit derivatives.
© Copyright IBTimes 2022. All rights reserved.
FOLLOW MORE IBT NEWS ON THE BELOW CHANNELS