Julia Gillard Rescued from Angry Protesters by Police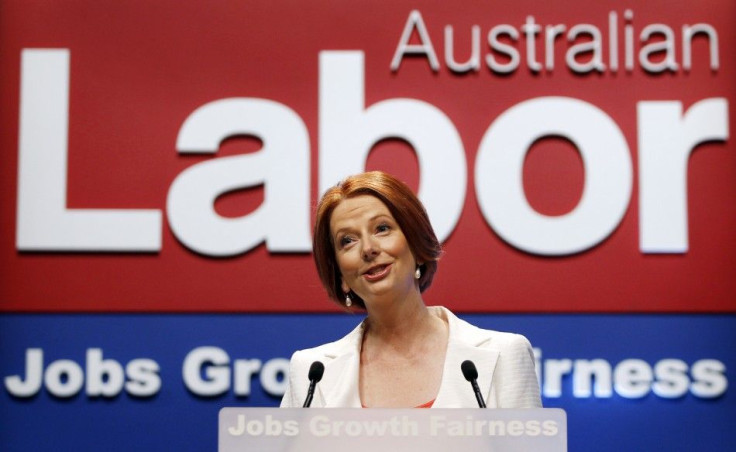 Julia Gillard, the Prime Minister of Australia, and leader of the opposition party, Tony Abbott, had to be rescued from a horde of angry protesters who briefly trapped them inside a restaurant in the capital Canberra.
The bizarre episode took place on the Australia Day holiday when a group of about 200 supporters of aboriginal rights surrounded the Lobby restaurant. About fifty police officers escorted the two politicians to safety.
The protesters support something called the Aboriginal Tent Embassy – a semi-permanent settlement that exists on the lawn of the Old Parliament in Canberra. Established in 1972, it fancies itself an "embassy" for Australia's aboriginals and demands various land rights and concessions for these peoples.
Apparently, Abbott angered the group by declaring the camp should be dismantled. He had said in a TV interview that the country's constitution will recognize the rights of indigenous peoples.
I think the indigenous people of Australia can be very proud of the respect in which they are held by every Australian," Abbott had earlier told Australian media.
I think a lot has changed since then, and I think it is probably time to move on from that.
Gillard and Abbott were in the restaurant for a ceremony honoring those Australians who served bravely during the brush-fires and floods that plagued the nation over the past two years.
Protesters pounded on the restaurant windows and doors shouting "racist!" and "shame!" at Gillard and her party. Under threat from the angry crowd, Gillard and Abbott were reportedly trapped inside for about 20 minutes before police could safely move them out of the restaurant.
Miss Gillard was grabbed by her bodyguard, literally racing her along the ground, said BBC correspondent Duncan Kennedy.
Moreover, even as the Prime Minister sped off in a waiting car, protesters managed to pound on the vehicle's roof. Gillard reportedly looked disheveled during the ordeal and even lost a shoe.
At least one prominent aboriginal was appalled by the chaotic scene.
Mick Gooda, Aboriginal and Torres Strait Islander Social Justice Commissioner, told Australian media: An aggressive, divisive and frightening protest such as this has no place in debates about the affairs of Aboriginal and Torres Strait Islander peoples or in any circumstances. While we need to acknowledge that there's a real anger, frustration and hurt that exists in some indigenous communities around Australia, we must not give in to aggressive and disrespectful actions ourselves.''
Gooda added: The point could have been made more peacefully and respectfully. It is particularly distressing that this has occurred at a time when we are so close to moving towards cementing respect for Aboriginal and Torres Strait Islander peoples in our Constitution.''
© Copyright IBTimes 2023. All rights reserved.