July US Car Sales: Chrysler Gains Big But Ford Struggles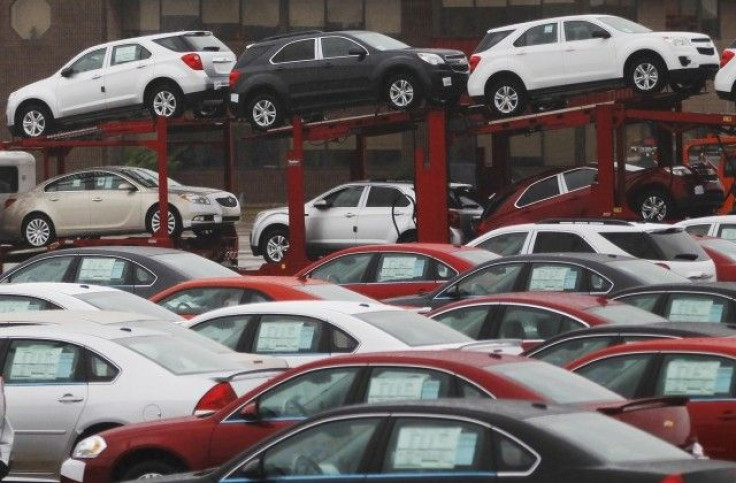 Ford Motor Company (NYSE: F) and Chrysler Group LLC were the first two carmakers to report July U.S. car sales Wednesday, and the two company's diverged radically with Chrysler gaining 13 percent on strong consumer demand and Ford sales dropping 4 percent on weak fleet sales.
The divergent results for Ford and Chrysler demonstrate Ford's relative dependence on fleet sales. However, July traditionally is a weak month for fleet sales, so Ford's weakness in fleet sales is not unexpected. Chrysler reaffirmed an expected industry-wide seasonally adjusted annual rate of sales of 14 million on Wednesday.
"The pace of new-vehicle sales remained steady in July despite the mixed economic news, helped by the compelling selection of vehicles and highly optimized incentive programs," said TrueCar.com vice president of market intelligence Jesse Toprak, according to MarketWatch. Ford and General Motors Company (NYSE: GM) are not expected to report sales growth in July, while Chrysler and the major Japanese manufacturers are expected to report gains.
Chrysler Group LLC
Chrysler Group LLC, a subsidiary of Italian Fiat SpA (Milan: F), on Wednesday reported its best July U.S. car sales since before the recession.
Detroit-based Chrysler sold 112,026 cars in July, a 13 percent increase over the year before. July was the 28th consecutive month of sales gains for the company and the best July since 2007. All of Chrysler's brands experienced sales gains with the biggest percentage increases going to the Chrysler and Fiat brands. Car sales rose 19 percent, while truck sales grew a more modest 11 percent.
Moreover, Chrysler Group recently reported its quarterly operating profits rose to $755 million, its highest quarterly profits in over a decade. Chrysler has experienced a strong recovery after its 2009 bankruptcy and acquisition by Fiat.
July's sales gains were indicative of Chrysler's "disciplined and methodical approach," according to Dodge Brand President and CEO and head of U.S. sales Reid Bigland. In 2012, Chrysler Group has been the only profitable division of Fiat.
Chrysler brand sales rose a whopping 35 percent, mostly on strong demand for the Chrysler 300 luxury flagship sedan. Chrysler 300 sales rose 41 percent in July. Chrysler's year-to-date sales are up 69 percent. July sales of Fiat brand cars rose 22 percent, demonstrating the ongoing popularity of the Fiat 500 line of hatchbacks.
The Ram Truck, Jeep and Dodge brands posted more modest gains. Ram Truck increased sales 15 percent in July, while Jeep gained 7 percent and Dodge gained 6 percent. Jeep was Chrysler's volume leader with 41,559 vehicles sold, but the Ram pickup truck was the best-selling vehicle overall with 23,824 units sold. Sales of the new 2013 Dodge Dart rose 282 percent over June as more vehicles began to arrive on dealer lots.
Chrysler Group had a 65-day supply, 341,699 vehicles, at the end of the month and projected a seasonally adjusted annual rate of 14 million.
Fiat SpA shares rose 0.03 percent to €4.03 ($4.96) Wednesday.
Ford Motor Company
Ford Motor Company (NYSE: F) reported U.S. July car sales were down 4 percent compared to the year before due to weak fleet sales.
Dearborn, Mich.-based Ford sold a total of 173,966 cars in the U.S. in July, down 4 percent from the previous year, despite the fact that retail sales rose 2 percent. The rise in retail sales was not enough to offset poor fleet sales which dropped 16 percent.
Consumers continued to buy Ford's fuel-efficient EcoBoost F-150 trucks, which accounted for 42 percent of overall retail sales. Ford truck sales have been particularly robust due to increased contractor demand driven by rising new housing starts during the summer. The modest gain in retail sales was attributed to overall demand for fuel-efficient cars.
Ford Motor Company (NYSE: F) shares rose 1.63 percent to $9.34 Wednesday. Ford has been relying on North American profits to offset substantial losses in Europe in 2012.
All of the major automakers including General Motors Company (NYSE: GM), Honda Motor Co. (NYSE: HMC), Hyundai Motor Co., Mazda Motor Corporation (Tokyo: 7261), Nissan Motor Co. (Tokyo: 7802), Toyota Motor Corporation (NYSE: TM), and Volkswagen AG (Frankfurt: VOW) report July U.S. sales Wednesday.
© Copyright IBTimes 2023. All rights reserved.
FOLLOW MORE IBT NEWS ON THE BELOW CHANNELS