Kaci Hickox's Ebola Quarantine Raises Legal Questions Surrounding Response By Chris Christie, Andrew Cuomo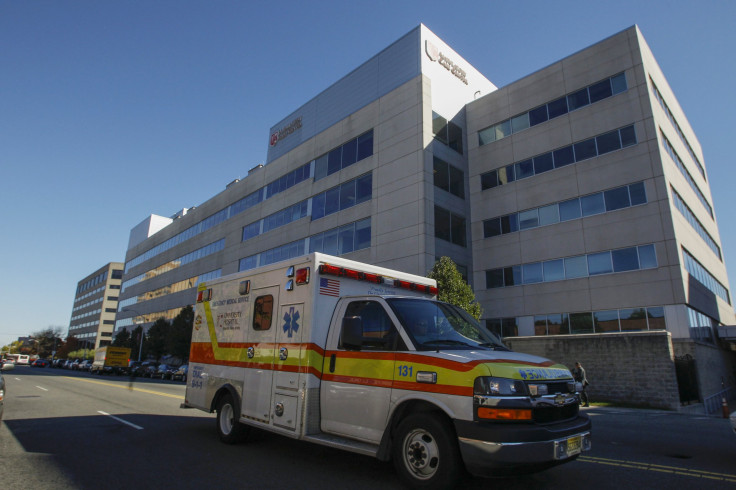 Quarantining people who may have been exposed to Ebola in West Africa may seem like a no-brainer to many Americans who have been seized by fear of the deadly virus spreading throughout the U.S. But the proposition is a legally fraught one, and legal experts say there are critical civil rights, legal and constitutional issues that must be weighed when a government considers instituting a quarantine.
"It poses a civil rights-civil liberties issue very clearly. There's some restriction of liberty, the question is whether it's a justifiable restriction," said Peter Jacobson, a professor of health law and policy at the University of Michigan School of Public Health. "It's very clear that states and local governments have the inherent authority to take action to protect the public's health. The issue is always whether the restriction is justified and whether the restraint is reasonable."
Avoiding a full-blown outbreak of Ebola in the United States is a top priority of health authorities, politicians and the American public, but there is considerable disagreement over the best way to ensure the virus remains contained. National health officials including the directors of the National Institutes of Health (NIH) and Centers for Disease Control and Prevention (CDC) have long said mandatory, restrictive quarantines and travel bans could do more harm than good by discouraging health workers from traveling abroad to help end the epidemic in Liberia, Sierra Leone and Guinea.
But the slowly rising tally of confirmed Ebola cases in the U.S. and revelations that many American hospitals and medical professionals are not adequately equipped to deal with the virus have raised concerns that officials have not done enough to curtail its spread. The news last week that Dr. Craig Spencer recently returned from treating Ebola patients in Guinea and was diagnosed with Ebola within 48 hours of visiting a bowling alley, riding the subway and eating at a meatball restaurant in New York City caused many people to panic over what they saw as the ineffectiveness of the federal approach to the virus.
In the wake of Spencer's diagnosis, New Jersey Gov. Chris Christie and New York Gov. Andrew Cuomo Friday instituted a mandatory quarantine policy to isolate people entering the U.S. from countries with high Ebola death tolls. Later that day, Maine nurse Kaci Hickox became the central figure in the ongoing debate over quarantining travelers returning from West Africa who may have been exposed to Ebola when she arrived at New Jersey's Newark Liberty International Airport. Upon the nurse's return from an aid trip to Sierra Leone with the aid organization Doctors Without Borders, she was whisked to a tent without a shower in a Newark hospital, where she was slated to be involuntarily held in mandatory 21-day isolation under Christie's new policy.
Hickox described her ordeal at the hands of New Jersey health authorities as "frightening" in a first-person piece published in the Dallas Morning News that added fuel to a high-stakes conversation over the mandatory quarantine policies that eventually reached the White House. The quarantine protocols came under fire by President Barack Obama and leading health experts, including Dr. Anthony Fauci, director of the National Institute of Allergy and Infectious Diseases, who argued they were not rooted in science and could negatively impact the effort to fight Ebola in West Africa by discouraging health workers from traveling there.
On Monday, Christie and Cuomo lifted their states' mandatory quarantine policies, and said residents not displaying Ebola-like symptoms would instead be allowed to quarantine themselves within their homes. But their announcements came after Hickox retained top civil rights lawyer Norman Siegel, who announced plans to file a federal civil rights lawsuit over the particulars of her quarantine experience.
"We're not going to dispute that the government has, under certain circumstances, the right to issue a quarantine," Siegel told Reuters Sunday. "The policy is overly broad when applied to her."
Hickox's case shines a light on the legal and civil rights issues that attend any discussion of potential quarantines in America. On one hand, governments have a right to take reasonable action to protect the public, as long as they have a compelling reason to do so.
But citizens also have a right to due process. It is this interplay that lies at the heart of the debate over blanket quarantine policies like the ones implemented then lifted by Cuomo and Christie, and that are being debated in statehouses and governor's mansions across the U.S.
"The federal government has explicit statutory authority to quarantine people, and all state governments have it under their what's called 'police powers' -- the power to keep the general public safe," said Eric Broutman, an associate attorney at the law firm Abrams Fensterman. "The contrary to that is that they have to follow Constitutional due process guidelines. There have to be particularized reasons why they are doing this. And people have the right to a writ of habeas corpus to petition the court to say, 'Why are you restraining me?' and the government then has to explain their reason for why they're holding them."
Two U.S. Supreme Court cases are particularly relevant when discussing quarantines, according to Devin Schindler, a professor of law at Western Michigan University's Cooley Law School with extensive experience in health care law.
First is Jacobson v. Massachusetts, a 1905 case in which the Supreme Court upheld the government's right to force people to be vaccinated for diseases like smallpox, ruling that the public health benefit of such a mandatory vaccination regime outweighs considerations about the restrictions it imposes on individuals' liberty.
The second is Matthews v. Eldridge, a 1976 case that set precedent for a balancing test to determine how much due process an individual should be granted before liberty can be taken away.
These cases inform decades of case law that supports the right of government to take away liberty if it provides ample due process and provides a compelling reason for doing so, Schindler said.
"It's a question of proportionality -- do we accept some restraint on individual liberty in return for protecting the public? And that's all a quarantine is designed to do is to have a temporary restraint on freedom of movement until the incubation period is over," Jacobson, the University of Michigan professor, said.
The government has a good case that it has a compelling reason to institute measures aimed at stopping the spread of Ebola, according to Schindler.
"I'm hard-pressed to think a more compelling reason is possible than the government's interest in making sure a communicable and deadly disease doesn't turn into an epidemic," he said. "The government's restriction of your liberty must be reasonable. The government can only quarantine you up until the time that it can establish that you are no longer contagious. Upon a determination that you are no longer contagious, the government has to let you go."
Hickox tested negative for Ebola and didn't show any symptoms of the virus -- meaning she was not capable of spreading the disease. The concerns over holding Hickox and other people traveling from West Africa who don't show symptoms in mandatory isolation are that such a blanket quarantine is seen by many legal experts as too broad, and that it goes against the recommendations of health authorities. If she had not been released shortly after making her grievances about her treatment known, Hickox would likely have had grounds for a lawsuit against the New Jersey government, according to Jackie Caynon, partner in health law at the Mirick O'Connell law firm in Boston.
"Ms. Hickox would have standing because her freedom of movement and right to privacy was restricted by the State of New Jersey under the quarantine and her argument would be that the restriction was unreasonable given the present guidance from the CDC and the state of our medical knowledge about Ebola and how the virus is transmitted at this time," Canyon said via email.
The question is whether an individual quarantine is reasonable, supported by medical evidence, and would have a benefit to public health that exceeds the restrictions it would place on individuals' liberty, experts say.
"The Supreme Court upheld as a general matter the constitutionality of medically advisable quarantines about 100 years ago, so I don't think anyone doubts that the court would uphold medically necessary quarantines," said Charles Sims, a partner at international law firm Proskauer Rose with extensive experience in constitutional law and former national staff counsel to the American Civil Liberties Union. "But where it's done against the advice of all the medical authorities including state health commissioners, then I think the court would have a big problem."
FOR FREE to continue reading
✔️ Unlock the full content of International Business Times UK for free
offer available for a limited time only
✔️ Easily manage your Newsletters subscriptions and save your favourite articles
✔️ No payment method required
Already have an account?
Log in
© Copyright IBTimes 2023. All rights reserved.