Karachi Bus Attack: At Least 43 People Killed, Over A Dozen Injured After Gunmen Open Fire On Bus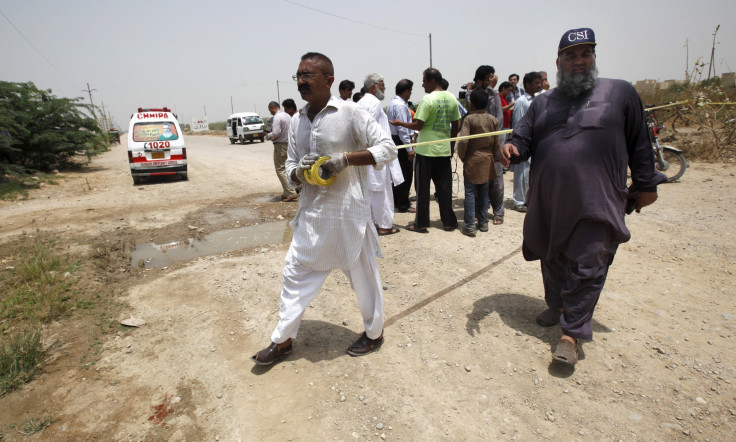 Update as of 4:30 a.m. EDT: Jundullah, a splinter group of the Tehrik-e-Taliban Pakistan (TTP), has reportedly claimed responsibility for Wednesday's attack on a bus carrying members of the minority Shiite Ismaili community.
The claim was made by Ahmed Marwat, a spokesman for the group, which pledged alliance to the Islamic State group last year, Dawn reported, citing Reuters.
Original story:
At least 43 people were killed and over a dozen injured on Wednesday after gunmen opened fire on a bus in the southern port city of Karachi, media reports said. The bus was reportedly carrying members of the minority Shiite Ismaili community.
Hospital sources reportedly said that the dead included 25 men and 16 women. The incident reportedly took place near the city's Safoora Chowk area when at least six attackers riding on motorbikes opened fire on the bus. The death toll is expected to rise, authorities reportedly said, as some of those injured were in critical condition. Provincial police chief Ghulam Haider Jamali told the Associated Press that the passengers were on their way to a place of worship for Ismaili Shiite Muslims.
"The gunmen stopped the bus and first fired at it from outside," a policeman said, according to an Agence France-Presse report cited by Dawn, a local newspaper. "Then they entered inside the bus and open fire indiscriminately. After that they checked to see if anyone was left uninjured."
The attackers entered the bus and shot the passengers in the head, a senior police official, who spoke on the condition of anonymity, told Dawn. A rescue official reportedly said that the bus was carrying around 50 to 60 people. The attackers reportedly fled the scene after the shooting.
No group has so far claimed responsibility for the attack. Militants in Sunni-majority Pakistan, including the Tehrik-e-Taliban Pakistan (TTP) and Lashkar-e-Jhangvi -- both Sunni Islamist groups -- have frequently targeted Shiites in the country.
© Copyright IBTimes 2023. All rights reserved.