Karmapa Lama Marriage: Tibetan Priest Renounces Monkhood To Marry Childhood Friend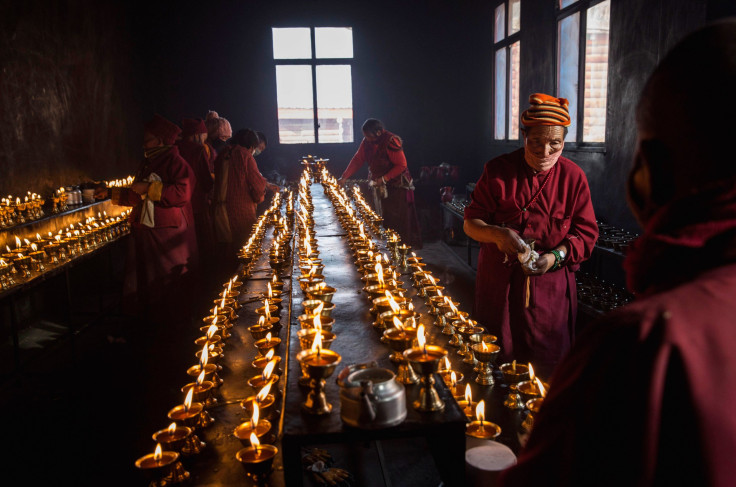 A Tibetan lama named Thaye Dorje, who claimed to be a reincarnation of the Karmapa Lama, announced Thursday that he married an old friend in Delhi, India and gave up monkhood, reports said.
Dorje said he got married on March 25. "I have a strong feeling, deep within my heart, that my decision to marry will have a positive impact not only for me, but also for the lineage. Something beautiful, something beneficial will emerge, for all of us," the AFP reported. Dorje's 36-year-old wife named Rinchen Yangzom, grew up in Bhutan and completed her education in India and Europe.
Dorje had been claiming since childhood that he is a reincarnation of Karmapa Lama, who led one among the four major schools of Tibetan Buddhism. His claims created conflicts among Tibetan Buddhists. Dorje was born in Tibet and his father was an important and high-profiled lama, while his mother was born to the Tibetan nobility.
According to Dorje's official website, he and his wife were close friends since childhood and knew each other for over 19 years. Dorje proposed to Yangzom on Jan. 19, following Tibetan traditions. He said he will be continuing all his activities as a lama except conducting ordinations.
"My role and activities as Karmapa will continue as before — with the single exception of conducting ordinations. This responsibility will pass on to His Eminence 4th Jamgon Kongtrul Rinpoche, Karma Mingyur Dragpa Senge. As Karmapa, I will continue to protect and preserve our beloved lineage, and strengthen the monastic sangha through initiatives such as the new Karmapa Center of Education," he said, according to his official website.
He also said that he has chosen a path that will differentiate him from the other lamas, however he thinks this "will further strengthen the Karma Kagyu lineage and the Kagyu school of Tibetan Buddhism" and he will continue to be committed towards his role as a leader.
"In this 17th incarnation, for both the future of the lineage, and fulfilling the wishes of my parents, I have chosen a different path. At the same time, my commitment to protect and preserve the monastic sangha, and the lineage, remains paramount in my life, and my continued role as Karmapa," he said.
© Copyright IBTimes 2023. All rights reserved.