Kate Middleton Topless Photos: First Lady Of France Shares Her Pain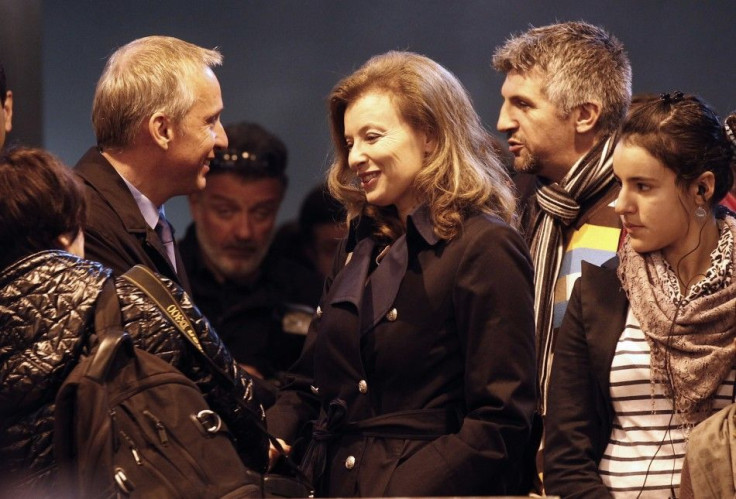 Kate Middleton might find some inspiration from another prominent European woman whose modesty and privacy were breached by French publications.
However, the Duchess of Cambridge may also consider the ramifications of filing lawsuits against magazines that publish questionable photographs of public figures.
Last week, Valerie Trierweiler, the domestic partner of the president of France, Francois Hollande, won a €2,000 ($2580) judgment against a magazine which printed photos of her wearing a bikini during a holiday at Fort de Bregancon, the official presidential retreat off France's southern coast.
The judgment against VSD magazine – which was decided by the Tribunal de Grande Instance court in Paris – actually fell far short of the €30,000 damages she was seeking.
The judge explained the rather modest fine by citing that Trierweiler "could not be unaware of the risk of having her photo taken on the beach of the head of state's official residence, which admittedly is not open to the public but which is visible from the sea."
Undeterred, Frederique Giffard, Trierweiler's lawyer, told Europe 1 radio: "We decided to pursue magazines that published the photos on their covers and which tried to sell, to catch the reader's eye with these photos."
Trierweiler was also incensed by the accompanying article in VSD which suggested she was seeking media exposure.
The attorney for VSD responded that the photos were "harmless." Indeed, photographers took similar pictures of France's former president Nicolas Sarkozy, and his wife Carla on the same beach and no legal action ensued.
Philippe Labi, the editor of VSD, told French media: "It's quite surprising to be attacked for such ordinary pictures."
Trierweiler, who is not married to Hollande, actually filed suit against three other magazines -- Closer, Voici and Public -- for printing the offending photographs.
(Closer is the same outlet that has just printed topless photos of Kate Middleton).
However, Trierweiler did not sue Paris Match (another magazine that printed the bikini shots) reportedly because she works for them as a journalist. Thus, the imbroglio has raised questions about the propriety of the First Lady of France serving as an active employee of a journal.
The First Lady has endured a number of attacks on her personality and conduct, including charges that she is engaged in bitter and immature feud with Hollande's former paramour, Segolene Royal.
© Copyright IBTimes 2022. All rights reserved.
FOLLOW MORE IBT NEWS ON THE BELOW CHANNELS