As Kawhi Leonard Eyes Los Angeles, Toronto Isn't Giving The Raptors' Star Much Reason To Stay
After losing Game 2 and Game 3 of their second-round series with the Philadelphia 76ers, the Toronto Raptors haven't only hurt their chances of winning an NBA championship. With Kawhi Leonard heading for free agency, the team is blowing their shot to keep one of the league's few elite superstars.
Even before the San Antonio Spurs traded Leonard to Toronto, it was rumored that Leonard was eyeing Los Angeles in the 2019 offseason. It's since been reported on several occasions that the forward prefers the Clippers over the Lakers, and L.A.'s No.2 franchise seems to be awfully confident that they will enter next season with Leonard on their roster.
The odds have been against the Raptors ultimately being able to convince Leonard to stay for the long term. Perhaps the two-time Defensive Player of the Year has already made up his mind regarding his future.
It's been speculated that a deep playoff run could convince Leonard to remain north of the border. It's not often that stars choose to leave a team that just reached the NBA Finals, and if Leonard somehow led Toronto to a title, the decision to spurn Toronto's offer for a team that didn't even make the postseason would be unprecedented.
Leonard's fascination with Los Angeles seemingly has little to do with basketball. L.A.is home for Leonard. It's where he was born. He went to college in Southern California at San Diego State. He even bought a $13.3 million house in the area earlier this year.
Leonard reportedly wants to enjoy the L.A. lifestyle. ESPN's Stephen A. Smith has said he's been told the San Antonio Riverwalk wasn't enough for the 27-year-old. Despite what Toronto might offer, it certainly isn't Los Angeles.
Toronto's argument for Leonard to take their max contract offer is supposed to be about basketball. The Raptors are always in the playoffs. They've won more than 50 games in four straight years with two consecutive 58-plus-win seasons. When the team is at its best, they look like a legitimate threat to the Golden State Warriors.
All of that means nothing if Toronto continues to play this way against Philadelphia. The one edge the Raptors had over the Clippers—or teams like the Lakers, Knicks and Nets for that matter—will be gone, and their best player along with it.
Through three games against the 76ers, Leonard has received virtually no support. The Raptors haven't been able to get anything going offensively when he's not creating a shot for himself or others.
Pascal Siakam was terrific in the series opener when he scored 29 points and grabbed seven rebounds on 12-15 shooting. Aside from that performance, Leonard's teammates have been thoroughly outplayed.
Kyle Lowry's annual disappearing act in the playoffs has been on full display. The All-Star has totaled 36 points on 36 field-goal attempts while shooting an abysmal 11.1 percent from three-point range.
The addition of Marc Gasol at the trade deadline was thought to be one that might put the Raptors over the top in the East. The center hasn't given Toronto anything they couldn't have gotten out of Jonas Valanciunas with pedestrian playoff averages of 7.8 points and 5.4 rebounds per game. Gasol hasn't recorded more than eight points or seven rebounds in any game against Philadelphia.
Toronto's bench has been a complete zero. Serge Ibaka has 13 points on 20 shots. Fred VanVleet has four points and four assists in 63 minutes.
Leonard is single-handedly keeping the Raptors alive. He looks like LeBron James on last year's Cleveland Cavaliers. We know how that worked out for Cleveland when James hit free agency after the 2018 playoffs.
Leonard wasn't a one-man team in the regular season. Far from it. Toronto actually thrived without Leonard, going 17-5 in games that the superstar missed.
Siakam got better as the season moved along, becoming the overwhelming favorite to win the NBA's Most Improved Player award. Toronto crumbled during the playoffs in recent years when Lowry had to be one of their two best players. The emergence of Siakam and the trade for Gasol allowed the point guard to become the Raptors' third or fourth option, raising the team's ceiling.
Danny Green has proven he can make big shots in playoff games. He's also an above-average defender. Green completes a starting lineup that, on paper, is better than what Leonard would be surrounded by on the Clippers, assuming Los Angeles doesn't find a way to sign Kevin Durant.
It just hasn't been the case when Toronto has needed it most.
Against Philadelphia, Leonard is averaging 37.7 points and 7.3 rebounds per game with a 71.4 true shooting percentage. His terrific offensive numbers weren't enough to propel the Raptors at home in Game 2 when they only allowed 95 points. Toronto didn't come close to winning in Game 3 as Leonard's teammates shot 22-61 with a poor defensive effort.
A few more games like that will probably end any suspense regarding Leonard's future in Toronto beyond this season.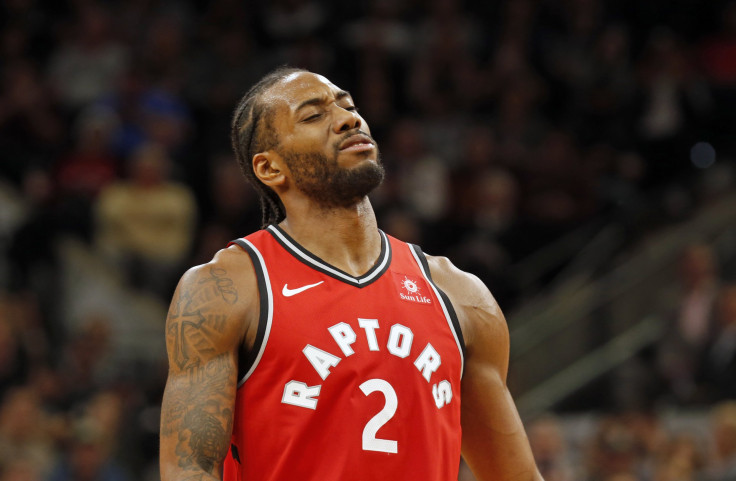 © Copyright IBTimes 2023. All rights reserved.