KD Heats Up, Thunder Rally To Beat Jazz In OT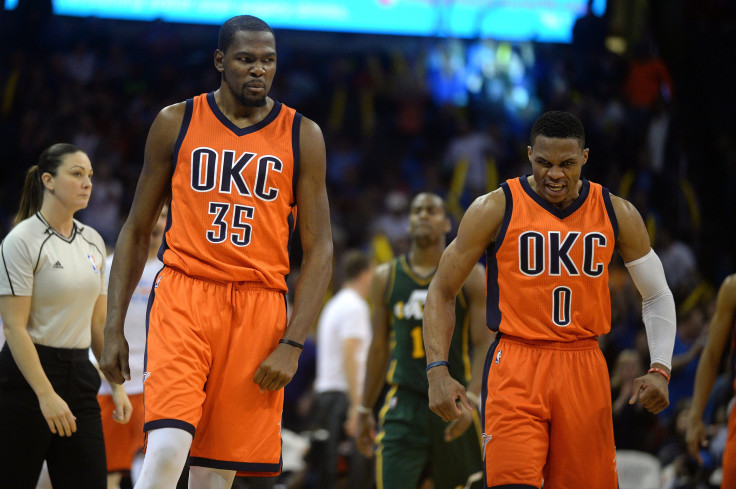 The Oklahoma City Thunder struggled in the first half at home against the Utah Jazz but Kevin Durant woke up after the halftime break to lead his team to a comeback win in overtime, 104-98.
The Thunder entered the contest with a four-game winning streak and was in danger of snapping it when the Jazz built a 51-37 lead at halftime and had the biggest lead at 16 points.
Instead, the Thunder notched their fifth in a row and improved to 16-8 overall as Durant scored 29 of 31 points in the second half and added 5 rebounds and 6 assists.
Russell Westbrook added 25 points, 11 rebounds and 5 assists while Dion Waiters had 13 points off the bench for the Thunder, who outscored the Jazz, 58-45 in the second half. Enes Kanter, a former Jazz, also had a nice game off the bench with 10 points and 6 rebounds.
The short-handed Jazz, who were playing without starting center Rudy Gobert, have now lost three of the last four and five of the last seven games.
Rodney Hood (23 points on 4-of-9 three-pointers), Alec Burks (21 points) and Gordon Hayward (20 points) led the way for the Jazz. Derrick Favors had a double-double of 14 points and 10 rebounds but the big man struggled from the field missing 10-of-17 shots.
The Thunder will try to stretch their five-game winning streak, their longest so far this season, when they host the Portland Trail Blazers Wednesday. The Jazz will try to bounce back Friday when they face the San Antonio Spurs.
© Copyright IBTimes 2023. All rights reserved.