Kenji Goto Beheading May Signal End Of Negotiations With ISIS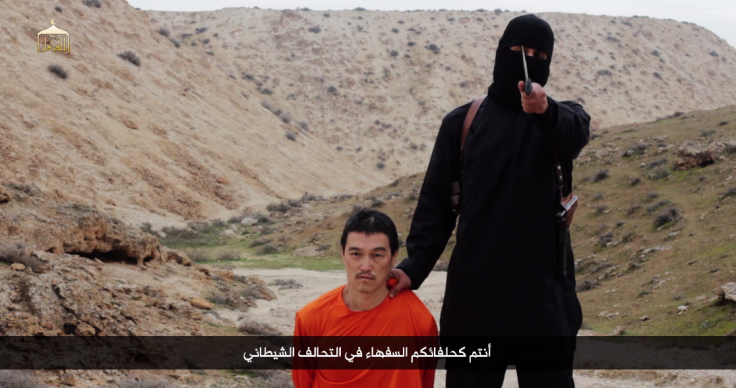 The two Japanese hostages who were killed this week, and a Jordanian pilot who may still be alive, were the first hostages for whom the Islamic State group publicly asked for a ransom. Negotiations among Japan, Jordan and ISIS failed and the militant group released a video purporting to show the beheading of Japanese hostage Kenji Goto.
Goto's fate and that of fellow Japanese hostage Haruna Yukawa, whom the group also known as ISIS also executed after failed negotiations, calls into question whether ISIS ever had any intention of releasing its hostages -- even if Jordan or Japan met its demands. In the case of the Japanese hostages, ISIS demanded a ransom of $200 million, a sum so high as to put in doubt whether the militant group was really serious about negotiating.
The perception by governments that dealing with the militants to secure the release of hostages is futile could impede future negotiations to release other hostages in ISIS captivity.
"Every time you flip the policy between not negotiating and paying ransom, you raise the incentive to find more hostages. This is a very grim business," Anthony Cordesman of the Center for Strategic and International Studies, recently told International Business Times. "The problem is the Islamic State is only one of many such movements, and the precedents you set are never one hostage against one threat."
In a video released earlier this month, militants asked the Japanese government to pay $100 million for each of the prisoners. ISIS may have needed the money and thought Japan was the country most likely to pay.
ISIS previously has released prisoners in exchange for ransom, but negotiations and transfers were always made in secret. This summer, Turkey managed to secure the release of 46 ISIS hostages using what President Recep Tayyip Erdoğan called "diplomatic and political negotiations," possibly a euphemism for paying. France also reportedly managed to free citizens held hostage by ISIS after paying a ransom last year though the government denies it.
Had the negotiations for the sizeable ransom succeeded, ISIS would have boosted its income from what has, so far, been a shaky and sporadic source of money for the group. And governments with a no-negotiation policy like the U.S. would know that they could free their citizens by paying ransom. Such a surefire way to save its citizens' lives would be difficult for any government to refuse, which could increase hostage-taking -- and give ISIS a huge financial boost.
"ISIS has raised tens of millions from hostage taking, and nobody has a stake in adding to their coffers to enable them to take more hostages," wrote Aaron David Miller, a vice president at the Woodrow Wilson International Center for Scholars and a former Middle East negotiator in Democratic and Republican administrations. "But on the other hand, do we just write these Americans off as simply unlucky souls in the wrong place at the wrong time? After all, if this was your son, father, husband, wife, daughter or sister, would that be an acceptable response from your government?"
But the negotiation over the Japanese and Jordanian captives may also have been about more than money. It may have to do with the Islamic State group's need to assert itself as a real state which talks to other states, rather than a terror organization that can be dismissed by saying a government does not negotiate with terrorists.
Goto's release also hinged on Jordan releasing suspected suicide bomber Sajida al-Rishawi, something it refused to do without proof Jordanian hostage Muath al-Kaseasbeh was still alive. The Jordanian government said it had not received any indication the captured pilot was safe by the deadline ISIS had set for al-Rishawi's release Thursday. Even after Goto's killing, there is still no information about al-Kaseasbeh's fate.
"Its choice to instill this countdown and talk about prisoner exchanges, and make the process public, it's a deliberate ISIS play to amplify their power, their asymmetric power," Harleen Gambhir, a counterterrorism analyst at the Institute for the Study of War, told U.S. News."The choice of making this a prisoner exchange is significant, rather than making it about ransom. It's a way for ISIS to position itself not just as a terrorist group trying to get money but as a state trying to get one of its former citizens back."
© Copyright IBTimes 2023. All rights reserved.