Kentucky Derby 2013: What Time Does The Race Start? What Channel To Watch, Plus Betting Odds [UPDATE]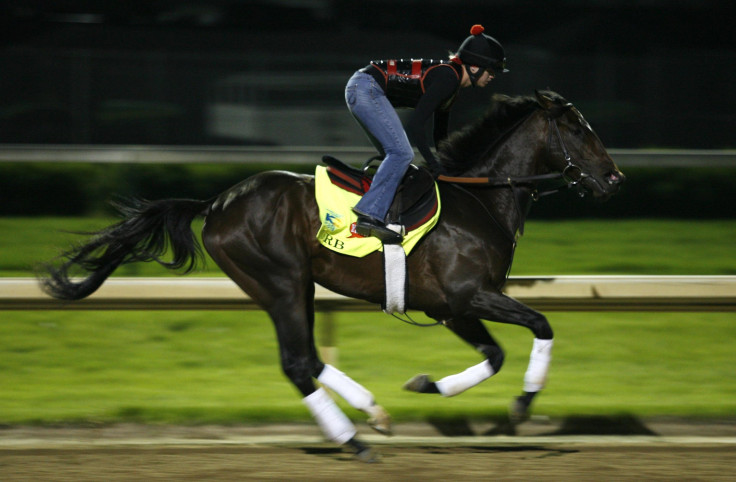 Hours before the 139th running of the Kentucky Derby at Churchill Downs, $9.1 million of bets have already been placed, according to the track's official site.
A scratch by the initial favorite, Black Oynx, has opened up the legendary race for a number of horses, and new favorites have emerged.
Based on overnight betting, Revolutionary comes in at 5-to-1 and Goldencents at 6-to-1, supplanting Orb and Verrazano, though both are still among the top four favored.
Giant Finish and Falling Sky are the biggest long shots, at 40-to-1 and 39-to-1, respectively.
The lines will continue to move throughout the day, and updates will be posted leading up to the race.
Coverage of the race begins at 4 p.m. and the Derby is scheduled for 6:24 p.m. EDT. It will be broadcast by NBC, or you can watch the live online stream at NBC Live Extra here.
Odds [Updated at 1:27 p.m.]
Oxbow, 22-1
Revolutionary, 5-1
Golden Soul, 29-1
Normandy Invasion, 7-1
Mylute, 13-1
Giant Finish, 37-1
Goldencents, 7-1
OverAnalyze, 14-1
Palace Malice, 23-1
Lines Of Battle, 32-1
ItsMyLuckyDay, 9-1
Falling Sky, 37-1
Verrazano, 9-1
Charming Kitten, 29-1
Orb, 7-1
Will Take Charge, 30-1
Frac Daddy, 23-1
Java's War, 24-1
Vyjack, 34-1
© Copyright IBTimes 2023. All rights reserved.