Kentucky vs Louisville: Prediction, Preview, Betting Odds For Final Four Game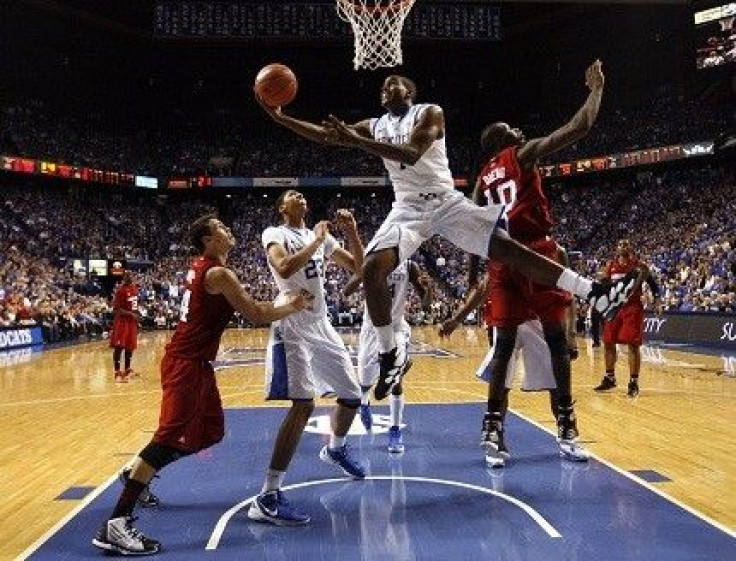 It's a game with so many story lines that it might be difficult to simply pay attention to the game.
When the No. 1-seeded Kentucky Wildcats (36-2) face the No. 4-seeded Louisville Cardinals (30-9) on Saturday in New Orleans, there will be more on the line that just a trip to the Final.
First, there are the coaches. Kentucky head coach John Calipari desperately wants to win his first title, and will be facing his former mentor Rick Pitino, who previously coached Kentucky, and led the program to a title in 1996.
Calipari and Pitino have a contentious relationship that dates back 33 years. Pitino helped Calipari get his first head coaching job at UMass, but there has been reported tension between the two over the years. Both coaches have downplayed any animosity, but many insiders believe that the two have been at odds for more than just their competitive spirit.
While Calipari is trying to capture that elusive title, Pitino could perhaps gain the biggest victory of his illustrious career by knocking off the favorite Wildcats, and taking an upstart Cardinals squad to the NCAA Final.
Then, there is the rivalry. Louisville and Kentucky are more than an in-state rivalry. Both schools have a deep basketball tradition, and to some this is a cultural war. The Cardinals have won two titles, and have been to nine Final Fours, while the Wildcats have won seven titles, and have been to 15 Final Fours.
The Wildcats will have the Associated Press's player of the year in Anthony Davis to rely on. The 6'10 forward, who received the award on Friday, is a major presence around the hoop, and has averaged 14.3 points, 10.0 rebounds and 4.6 blocks while shooting 64.2 percent. Davis set a school record for blocks.
But Kentucky is certainly not a one-man team. Calipari's squad goes six players deep, with an excellent backcourt of Marquis Teague and Doron Lamb. Davis has a pair of forwards around him who might be underclassmen, but play with a great deal of maturity. Terrence Jones and Michael Kidd-Gilchrist are both elite prospects for the upcoming NBA Draft.
Darius Morris, who averages the least minutes of Calipari's top six players, is certainly no slouch. The 6'8 senior swingman is averaging 10 points per game, on 47.2 percent shooting from the field, and 78.5 percent shooting from the free-throw line.
Louisville, on the other hand, is devoid of such depth and star power. But what they lack in high-profile talent, they make up for in tough defense. Pitino employs a match-up zone that is capable of giving opponents fits.
The Cardinals squeaked by three-of-four tournament opponents, but were able to decisively knock off No.1-seeded Michigan State. It was a momentous victory for a team that had their problems against some of the best teams in the nation.
Kyle Kuric is the team's most reliable scorer. The 6'4 guard can knock down three-pointers and is very good at protecting the basketball. Kuric is coming off two consecutive poor performances, so the senior is likely due for a better shooting night.
Louisville may have a secret weapon in Russ Smith. The sophomore guard started off the tournament slow, but had a strong game against Florida, when he scored 19 points on six-of-13 shooting. Also, the Wildcats are likely to be well aware of Smith's presence based on a particular game in the regular season.
The two teams met at Rupp Arena on New Year's Eve, with the Wildcats edging the Cardinals, 69-62. The game received some criticism for some questionable calls by officials. Both teams shot quite poorly from the field. However, it was Smith who shot 10-of-20 from the field, and finished with 30 points, that turned out to be a major story.
BETTING ODDS: Kentucky by 8.5
PREDICTION: Louisville need to keep the game in a half-court set because the Cardinals will likely struggle if Kentucky play up-tempo. The Cardinals don't have the offensive weapons to make this game turn into a shootout, so Louisville will likely make this a rather physical game. Expect the Wildcats to open the game in the second half, and avoid dry spells by pushing the perimeter players to penetrate, which should put Kentucky in the position to score down low.
PREDICTED SCORE: Wildcats over Cardinals, 77-66
© Copyright IBTimes 2023. All rights reserved.