Kentucky vs. West Virginia 2015: Start Time, TV Channel, Live Online Info For Sweet 16 Matchup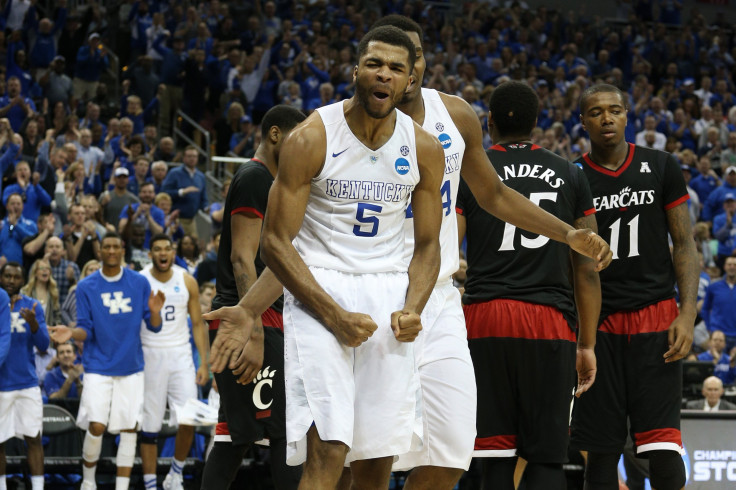 Hoping freshman guard Daxter Miles Jr's words ring true, the No. 5 West Virginia Mountaineers will try to eliminate and mark up the undefeated No. 1 Kentucky Wildcats in Thursday night's Midwest Region semifinal at Quicken Loans Arena in Cleveland, Ohio.
Miles upped the stakes for the Sweet 16 matchup, all but guaranteeing a Mountaineers victory in their first trip to tournament's second weekend in five years.
"Salute to them getting up to 36-0," Miles told reporters Wednesday, "but tomorrow they're gonna be 36-1. They're gonna be 36-1."
And Miles wasn't finished, not only questioning the level of competition the Wildcats have faced in their pursuit of the first perfect season in nearly 40 years, but their effort on the floor.
"I don't think they've played a team like us," Miles said. "To me, they don't play hard. To me, they don't play as hard as we play. Nobody is invincible, so their time will come, and I think we're going to pull it out."
Miles' confidence in his team's abilities and determination is both commendable and understandable, even if it's slightly misguided. West Virginia faced a gauntlet of Big-12 opponents and ended up being one of seven teams from the conference to make the tournament.
Powered by senior guard and leading scorer Juwan Staten's 14.2 points and 4.8 assists per game, the Mountaineers would also drop a stacked and hard-rebounding No. 12 Buffalo squad in the tournament opener, and sent No. 4 Maryland packing in convincing, 69-59, fashion.
Staten was limited to six points but came up with six assists against the Terrapins, and now has 13 total in the tournament, while sophomore forward and top rebounder Devin Williams racked up 16 points and 10 rebounds. Junior guard Jonathan Holton made up for his scoreless game against Buffalo, during which he fouled out with only nine minutes logged, with 12 points on 5-for-10 shooting against Maryland.
It's a solid core that West Virginia head coach Bob Huggins rolls out, but the Wildcats have been tested this season, despite Miles' assertions.
Kentucky entered the tournament as the top overall No. 1 seed and arguably the toughest and most talented starting five in the nation, and like the Mountaineers, fended off serious competition from ranked Kansas, North Carolina, and Louisville before putting an equally loaded SEC on its back.
Williams in particular could have a tough night on the glass against Kentucky's massive frontline stars Karl-Anthony Towns, Willie Cauley-Stein and Trey Lyles, all 6-foot-10 or higher and helping the Wildcats boast rank No. 21 in the nation in rebounding.
The freshman Towns, a presumptive top three pick in this summer's NBA Draft, also leads Kentucky with 2.4 blocks per game, to go along with his 10 points and 6.8 rebounds. Cauley-Stein, now a junior who was part of the Wildcats championship run two years ago, also protects the rim with 1.4 blocks and 6.4 rebounds and leads the team with 1.3 steals. There's also seven-footer Dakari Johnson waiting on the bench should Towns or Cauley-Stein get in foul trouble.
Manning the wings and orchestrating the offense are the Harrison Twins, Andrew and Aaron, and guard Devin Booker knocking down 40.6 percent of his three-point attempts. Andrew is tops on the team with 3.6 assists per contest, and Aaron racks up a team-best 11.1 points.
Start Time: 9:45 p.m. ET
TV Channel: CBS
Live Online Stream: A live online stream is available at the tournament's official site here.
Betting Odds: Kentucky -13
Over/Under: 136 points
Prediction: Kentucky over West Virginia, 75-63
© Copyright IBTimes 2023. All rights reserved.