Kenya's President Goes East: Why China Could Become Uhuru Kenyatta's Closest Friend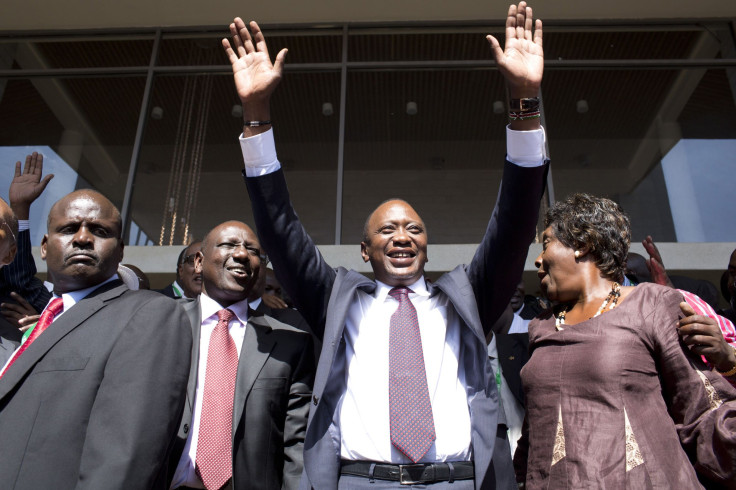 Kenya's new president Uhuru Kenyatta made his diplomatic priorities clear this week when making his first post-inauguration trip abroad to Russia and China. That Kenyatta would bypass the United States, Kenya's sixth-largest trading partner and a major aid donor, should come as no surprise. U.S. President Barack Obama also chose to bypass Kenya -- his own father's homeland -- when he traveled to Africa this summer, shortly after Kenyatta won the election.
Kenyatta's very candidacy in that poll was a point of contention with Western powers. Both Kenyatta and his deputy president William Ruto have been indicted by the International Criminal Court. They are alleged to have supported and funded militant groups that committed human rights abuses following Kenya's disputed 2007 national election. Kenyatta is scheduled to appear in court in November, though further delays aren't out of the question. Ruto's case is scheduled to begin next month.
U.S. officials have warned that the impending trial would threaten the legitimacy of Kenyatta's administration, not to mention the diplomatic standing of the entire country. China and Russia, meanwhile, have voiced no concerns whatsoever about the repercussions of the ICC case.
Kenyatta arrived in Moscow on Aug. 15, spending only two nights there before heading to China on Aug. 18, where he'll stay until Aug. 23. In Moscow, the Kenyan president encouraged more investment and trade. The relationship certainly has potential for growth; last year, Russia accounted for only 0.7 percent of Kenya's total bilateral exchanges, ranking 20th of all countries worldwide. First and second place went to India and the European Union, respectively.
China ranked third with $2.4 billion in two-way trade. The world's second-largest economy has ramped up its presence all across the African continent in recent years, though Kenya's relative lack of hydrocarbons has kept it on the sidelines of China's mad grab for energy resources. That may change, however; British company Tullow Oil PLC (LON:TLW) found crude in Kenya just last year and says deposits may total about 10 billion barrels. They expect to begin pumping in 2014.
Yet for Kenya and China, their relationship goes beyond resources. Officials in both countries have touted their historical links in recent weeks, both noting that Indian Ocean trade has connected Asia and East Africa for centuries.
"A rising Asia ... rekindles memories of the ancient world economic system," wrote Kenyatta in an op-ed for Kenya's Daily Nation this week. "This system revolved around the Indian Ocean as its hub and then, as now, the East African coast was an integral part. Kenya is central in the waters that host major sea-routes connecting Africa, the Middle East and East Asia with the Americas and Europe."
China's ambassador to Kenya, Liu Guangyuan, wrote a similar article last Friday for Kenyan media outlet Capital FM. "Looking back to the history, we are so proud of the friendship and cooperation between China and Kenya and the two peoples," he said. "More than 600 years ago, the Chinese navigator Zheng He visited Kenya four times during his seven voyages to the western oceans, with many historical prints and beautiful legends passed down."
Liu pointed out that China has become Kenya's largest source of foreign direct investment, with a cumulative total of $474 million as of June, and that Chinese companies in Kenya have tapped local labor forces for at least 80 percent of their workforce.
Kenyatta has been quite clear about the message he wants to send: if Western powers are hesitant to back his presidency or engage with Kenya economically, Eastern countries will be able to pick up the slack. Already, this week, China and Kenya have signed agreements worth $5 billion to be spent on antipoaching initiatives, infrastructural improvements and energy projects in Kenya.
In the nearer term, shoring up support for his administration ahead of the ICC trial will be paramount. Should he clear that major hurdle, trade and diplomatic cooperation between China and Kenya are sure to increase as the years pass -- especially as Kenyan crude begins to flow. No wonder that the new president has moved quickly to modernize operations at Mombasa, Kenya's booming port city, in hopes of becoming the largest trading hub on the Indian Ocean.
"As Kenyans very well know, we as a country have benefited greatly from Chinese investment, especially in our infrastructure," Kenyatta said upon his arrival in China on Sunday, according to Voice of America. "The roads that we are developing, the transmission lines that we have been developing, these have been as a result of our close partnership with this country."
© Copyright IBTimes 2023. All rights reserved.