Kenya's Supreme Court declines to rule on election date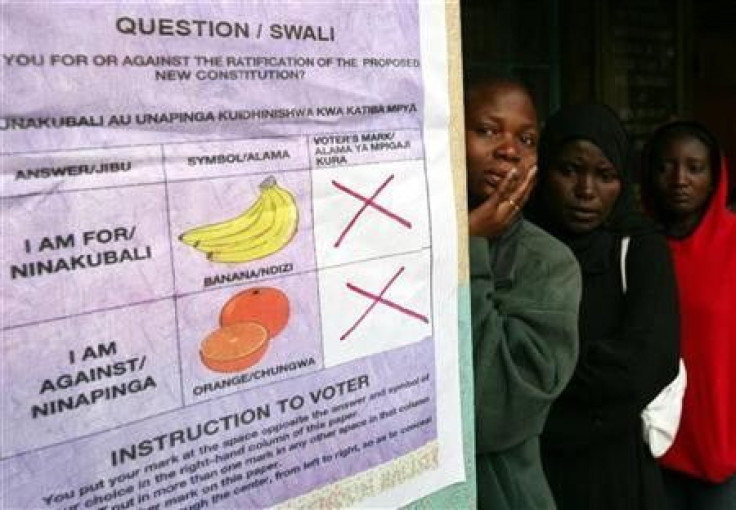 Kenya's newly-constituted Supreme Court on Tuesday refused to rule on a date for next year's elections, stoking voter unease over moves by the government to amend a polling timeline already endorsed by a referendum.
Under the constitution adopted last year, Kenya was due to hold presidential and parliamentary elections on August 14 2012, the first polls since a disputed vote in 2007 after which more than 1,220 people were killed and 350,000 displaced. The post-election violence is being investigated by the International Criminal Court.
The government wants to delay the 2012 vote by four months, citing logistical problems, a move which helped prompt the electoral commission to petition the Supreme Court to make a binding ruling on the date.
Instead the Supreme Court ordered the High Court to urgently determine the case, since it has a primary role on hearing constitutional matters.
We decline to give our advisory opinion on the next general election, Chief Justice Willy Mutunga said.
The High Court should sit on a daily basis starting this Friday until the matter is resolved, Mutunga ordered.
An opinion poll last month showed 53 percent of Kenyans want an August election and 38 percent a December one.
Analysts hailed the ruling, saying it was a step in the process of rebuilding the credibility of the country's legal system and restoring confidence in the courts, which have in the past been used to hand down unpopular political decisions.
It is a first class ruling, the jurisdiction over such matters is vested in the High Court, said former legislator and prominent lawyer Paul Muite.
It also means if a petitioner is not satisfied with the High Court's decision, he can go to the Court of Appeal and if still unhappy there is the Supreme Court. But if the Supreme Court had ruled, then there would have been nowhere else to go.
Legislators are expected start debating the government's proposed vote delay in early 2012.
© Copyright Thomson Reuters 2023. All rights reserved.