Kerry Goes Over Ambassador Oren's Head, Appeals Directly To Netanyahu To Stop West Bank Settlements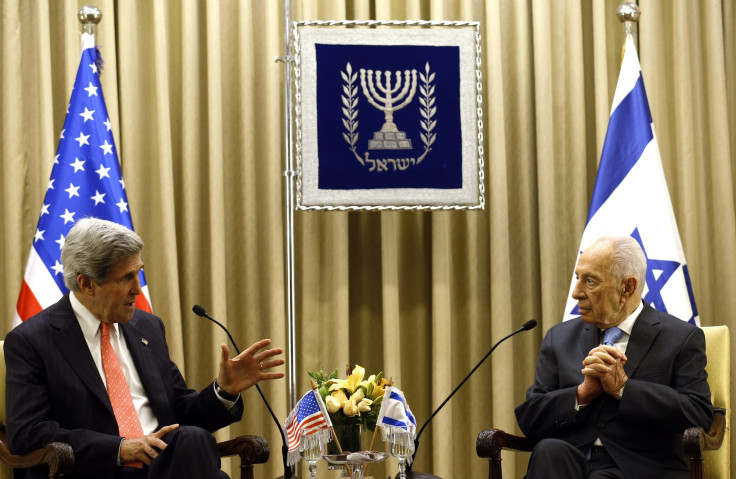 In an unusual diplomatic move, U.S. Secretary of State John Kerry on Thursday appealed directly to Israeli Prime Minister Benjamin Netanyahu to protest the legalization of four settlements in the West Bank, Haaretz reported. The settlements, which were ordered to be destroyed in February 2011, still exist and are on the brink of being legalized.
("Legalization" by the Israeli government does not affect their status in violation of international law and U.N. resolutions, of course.)
Kerry is currently on his fourth trip to the Middle East since taking office at the beginning of February, and is in Israel Thursday and Friday to attempt, again, to resuscitate the Israeli-Palestinian negotiations that have been all but dormant since 2010. As part of that effort, Kerry went somewhat over the head of Israeli Ambassador to the U.S. Michael Oren -- who would be the usual recipient of such a message -- in a phone call to Netanyahu placed earlier this week, before he arrived in Jerusalem.
"There have been some very serious meetings, a lot of very serious discussions," Kerry told Haaretz on Thursday, after talks with Netanyahu and Israeli Justice Minister Tzipi Livni. "I know this region well enough to know that there is skepticism. … There have been bitter years of disappointment."
It's not clear how Netanyahu responded to Kerry's phone call. After the talks on Thursday, Netanyahu said the trio focused on Syria and Iran as well as restarting peace talks with the Palestinians, which the settlements' legalization can only hinder.
Kerry also met with Palestinian President Mahmoud Abbas in Ramallah on Thursday.
© Copyright IBTimes 2023. All rights reserved.