Third Time Wasn't The Charm: John Kerry Returns To The Middle East For A Fourth Go-Round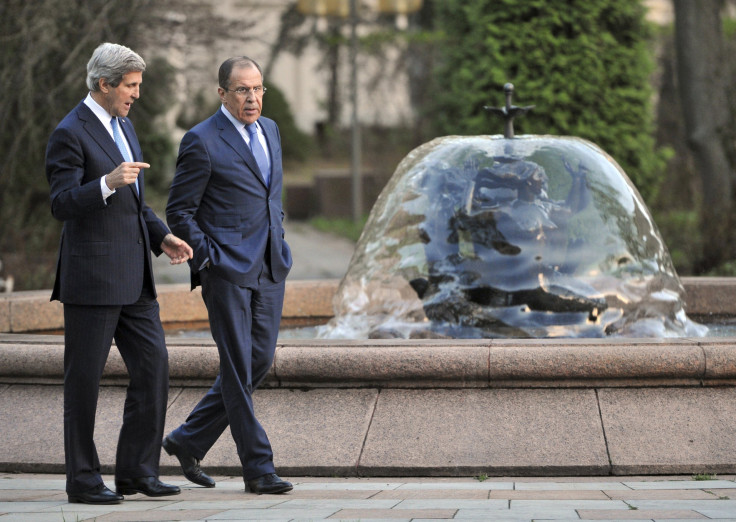 So off he goes again, for the fourth time this year, to the deserts of Arabia, the torn cities of Jerusalem and Ramallah and then to Africa.
Our hero? U.S. Secretary of State John Kerry, embarking on yet another trip to the Middle East, where he has already been three times since assuming office at the end of January.
Kerry lands in Muscat, the capital of Oman, on Tuesday, and then moves on to Amman, Jordan, on Wednesday to discuss, again, the crisis in Syria. On Thursday and Friday, he will visit Jerusalem and Ramallah to attempt again a restart of Israeli-Palestinian negotiations. British Foreign Secretary William Hague will join Kerry for this leg of the trip, the Guardian reports, amid some dire predictions from British officials that "there is no plan B" should the much-touted two-state solution fail.
After leaving Israel on Saturday, Kerry will stop in Addis Ababa for two days to participate in the African Union Summit, which will include a celebration of 50 years since the founding of the organization. Kerry will swing back into Amman for the World Economic Forum on Sunday before returning to Washington, D.C.
Why is this trip different from all the others? Well, there's some pretty high-stakes posturing on Russia's part about Syria. Russia has been one of Syrian President Bashar al-Assad's staunchest allies from the start of the conflict in March 2011, and now Israeli officials say Russia is preparing to send a series of high-tech anti-aircraft missiles to the Syrian government, possibly to avert any potential no-fly zones that might be imposed.
General Martin Dempsey, the chairman of the U.S. Joint Chiefs of Staff, said the transfer of the advanced missiles is "an unfortunate decision that will embolden the regime and prolong the suffering," AP reports.
Despite Russia's position, much weight is being given by journalists and analysts to the U.S. making a bid for Russia's cooperation to find a peaceful political solution to the Syrian conflict. Kerry, in fact, visited Moscow on a trip earlier in May, where he made pointed statements about how the U.S. and Russia "can accomplish great things together when the world needs it."
Not only is Russia reportedly sending high-grade military gear to the Assad regime, but questions are now circling as to what, if anything, U.S. President Barack Obama will do now that he is "gathering more evidence" of the use of chemical weapons on the Syrian battlefield. Obama has been mostly circumspect, speaking in broad diplomatic terms about the need for the "international community to apply pressure on Assad to go" and similarly lukewarm statements. There are no clear indications as to whether the U.S. is planning to assist the rebels in a manner similar to how Russia has been supporting government forces for the past two years -- that is, to supply lethal aid.
© Copyright IBTimes 2023. All rights reserved.