Kevin Durant Could Leave Warriors, Reigning Champions Brace For Departure
Kevin Durant was the main topic of discussion when the 2018-19 season got underway with everyone guessing and questioning where the Golden State Warriors star will play next season after he enters free agency.
The small forward will be an unrestricted free agent this summer and is yet to give an indication as to whether he will re-sign with the Warriors or look for pastures new. Durant's only concerns about free agency have been that he needs to earn his value and enjoy playing his basketball.
Durant will be eligible for a max contract in the summer and the Warriors can offer him a five-year deal worth $221 million while any other interested franchise can only offer him a four-year deal worth $164 million.
The 30-year-old is likely to be the most in-demand player in the summer as there is no doubt that he will make any team he joins playoff contenders. The New York Knicks are said to have made him their top target, especially since they have cleared cap space for two top free agents in the summer by trading Kristaps Porzingis.
The Los Angeles Lakers are also said to be keen admirers and want to partner Durant with LeBron James, as they look to get back to challenging for NBA championships. But Durant has given no indication about his preference after recently dismissing speculation linking him with a move to New York.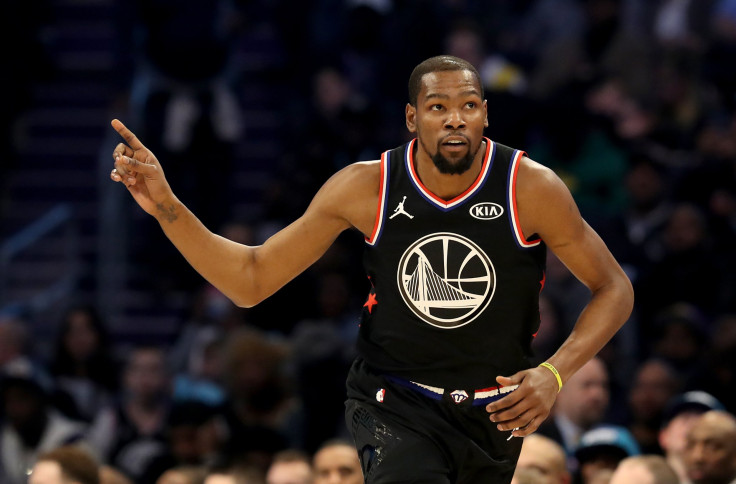 Despite there being a shadow over Durant's future, the Warriors management are said to be unconcerned. They have clearly expressed their desire to retain the player in the long-term, but are ready brace themselves for his potential exit in the summer.
"We have no idea what he's going to do," a team source said, according to Frank Isola of The Athletic. "Everyone wants him to stay. There's not much more we can sell him on. If he leaves, we'll think of it as being lucky to have him for three great years."
The forward continues to get hostility over his move to the Warriors from Oklahoma City Thunder in 2016 with many claiming that he joined a winning team and one that will always be heralded as Stephen Curry's team. But Durant has more than held his own in the last two seasons winning the NBA championship twice and the Finals MVP on both occasions.
The Warriors are currently top of the Western Conference and are favored to go on and win their third straight title. While many claim that a third title will see Durant leave in search of a new challenge, there are some experts who believe he could stay and go on to win more titles with the Warriors and overtake James, who is considered the greatest of this generation, and has three titles to his credit.
© Copyright IBTimes 2023. All rights reserved.