Kevin Durant 'Loves Doc Rivers', Clippers Move Possible, NBA Winner Says
Kevin Durant to the New York Knicks in the summer seems to be a foregone conclusion in the eyes of many NBA insiders but Kendrick Perkins, the Golden State Warriors small forward's former teammate and close friend, has asked everyone to calm down. The 2008 NBA Championship winner threw another team in the mix – the Los Angeles Clippers – and explained why Durant could join Doc Rivers' team instead.
The Warriors forward will enter free agency in July and the question of whether he would remain in the Bay Area or look for a new franchise has been asked and answered numerous times, but none of the answers have been by the player or his manager. Experts seem to believe that a deal is almost done between the Knicks and Durant, as they have $74 million in max salary cap space, and that the Knicks would sign another superstar – likely Kyrie Irving – to team up with the two-time NBA Finals MVP.
Perkins, however, was of the opinion that the Clippers have a great chance of signing Durant as the player likes the organization. Perkins and Rivers share a good relationship, having won the title together in Boston in 2008, and the former admitted that Durant also loves the current Clippers coach and seemed to indicate that it was the Warriors star who revealed his admiration for the coach and the team.
"Everybody keeps screaming New York, but do not be surprised if KD signs and goes to play for Doc (Rivers)," Perkins said during an interview with Kristine Leahy on FS1. "I don't even have to help recruit him. He likes the organization, he likes Doc Rivers, he loves Doc Rivers. But me and KD don't talk about (free agency), he just happened to throw that out there."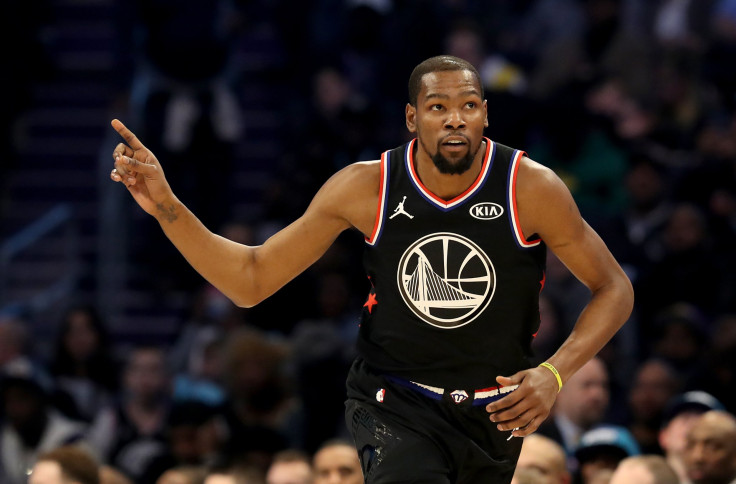 Durant's manager Rich Kleiman was adamant his client was still "100 percent undecided" with regards to his free agency plans. His current focus was recovering from the right calf strain that has sidelined him for two weeks, and on making an appearance during the NBA Finals.
Perkins continued to talk about Durant potentially making a move to the Clippers when he made his second FS1 appearance on the "The Herd" with Colin Cowherd. He believed Durant will get the stability of a franchise that has clear direction, while also being able to make it his team with a talented group of players.
"If I'm KD, I would really consider going to the Clippers," Perkins said during his appearance on "The Herd". "With the new ownership, I love what (Steve Ballmer) is doing. The front office with Lawrence Frank and Michael Winger (who was with Oklahoma City at the same time as Durant) are doing a great job. Doc did a hell of a job this year with this group of guys."
"You look at the Clipper organization, even adding Jerry West the legend (as a consultant), you look at them and it's like, stability. It's like, yeah, this is a franchise, and you can see Kevin Durant going there. It's in LA, he could flourish and be himself, and it would be his team."
© Copyright IBTimes 2023. All rights reserved.
FOLLOW MORE IBT NEWS ON THE BELOW CHANNELS