Kevin Durant Raring To Return, Play Under Steve Nash After Extended Layoff
KEY POINTS
Kevin Durant expressed his excitement to play under Steve Nash
Durant is raring to return to court action after spending an extended break as he was recovering from an Achilles injury
Nash says Durant is one of the greatest players to ever play as he calls coaching the high-scoring forward a "privilege"
Kevin Durant can't wait to be back on the floor and suit up for his first game from an extended break due to an Achilles injury. And what better way to make his debut for the Brooklyn Nets than to play for a mentor whom he had championships with.
Durant heaped praises on newly appointed Nets head coach Steve Nash as he expressed his anticipation in reuniting with the Hall of Famer. The spitfire scoring forward worked with Nash in Golden State where the latter served as a consultant for the then Warriors dynasty.
"(Nash's) insight for the game, his communication, how he communicates the game of basketball is definitely going to help me as a player develop and it's going to help the rest of the team," Durant told JJ Redick on "The Old Man and the Three" podcast.
Prior to capturing their first NBA ring in the Bay Area in 2017, it was revealed that Durant and Nash had already gotten a glimpse of each other's basketball repertoire during a workout session some seven or eight years ago.
With their feet set to find the same ground anew, Durant said he is raring to take his game a notch higher under the rookie coach.
"Every time I'm in the gym with him, I was always like a sponge," Durant said. "I'm looking forward to this man. I always feel like I'm a student of the game. Somebody who has experienced so much and played in different eras, I'm looking forward to him teaching me some more things about it as well."
Despite criticisms saying that Nash "skipped the line" to get the job, Durant feels the former two-time MVP fits perfectly to lead the Nets.
Durant is downright elated to hit the ground running with Nash. And with signs pointing towards a healthy season, it appears that the feeling is mutual for the legendary point guard.
"It's a privilege to work with one of the greatest players to ever play the game," Nash said, per ESPN.
"Someone who is incredibly coachable, inquisitive, and that lends itself to the question of searching. I think what I meant was that Kevin's always searching, he's always curious, inquisitive, developing as a human being. So he's a deep person who has a lot of goals and a lot about him, not just in basketball terms."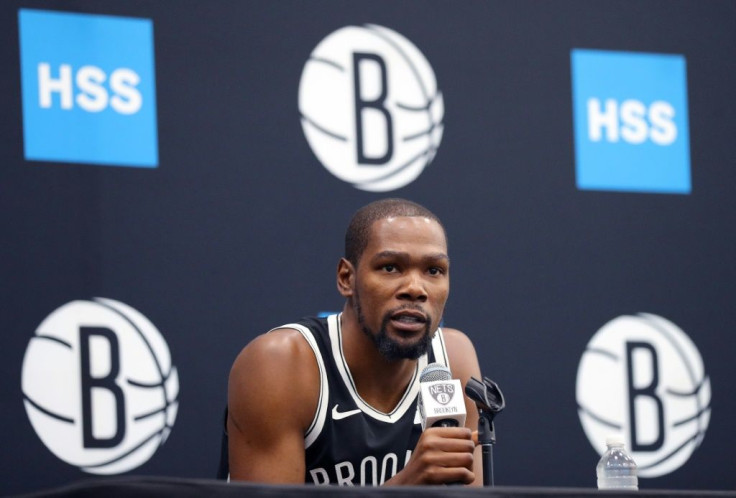 © Copyright IBTimes 2023. All rights reserved.