Kevin Durant Should Choose Thunder Over Lakers, Knicks: Mannix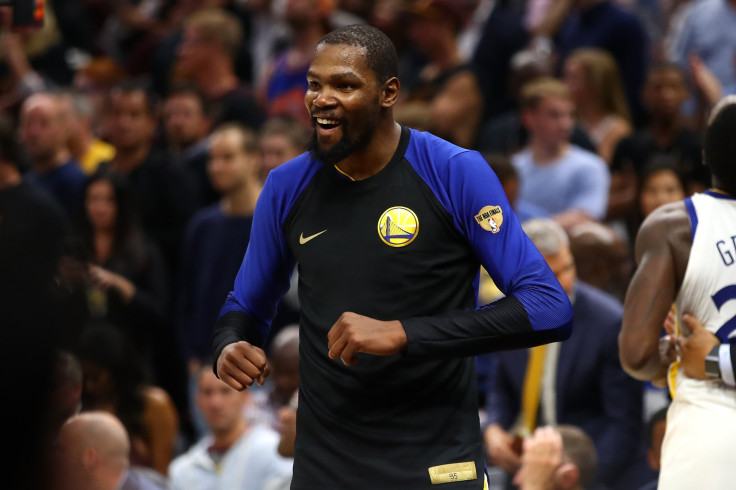 Kevin Durant's potential free agency in 2019 continues to be a major topic of discussion this NBA off-season despite him only recently signing a new deal with the Golden State Warriors. And Yahoo Sports' Chris Mannix believes Oklahoma City Thunder should be the only team he considers should he leave the reigning NBA champions.
The Warriors small forward re-signed on a two-year deal with the Bay Area team after opting out and entering free agency in July this year. But rather than sign a max contract, he opted for a two-year deal with a player option.
It is almost certain that he will again enter free agency next summer, especially after he recently revealed that the deal he signed was "perfect" as it gives him control and power over his future.
Durant has constantly been linked with a move away, with the New York Knicks being touted as a possible destination as they will have the cap space next summer to sign a big free agent. Another possible destination being constantly mentioned is a union with LeBron James at the Los Angeles Lakers.
Mannix, however, believes Durant should keep his former team as his first and only option if he decides to leave the Warriors. He believes he should look at winning more titles than James and become the Michael Jordan of the current generation, something he cannot do if he joins James in Los Angeles.
Moreover, he believes Durant can form a super team in Oklahoma with Paul George and Russell Westbrook and win a title with the team he spent nine seasons with before joining the Warriors. The two-time NBA Finals MVP continues to get criticized for his decision to ditch Thunder for their Western Conference title rivals and Mannix believes rejoining them will bring an end to the hassle he gets on social media.
"It's a little murkier where he might go," Mannix said on his podcast, as quoted by the Express. "A lot of people connect him to Los Angeles [Lakers]. I really believe that when you get to a point that Kevin Durant's at, you don't want to start helping LeBron James win championships."
"You want to be the guy that ecplises LeBron James in championships. You want to be the Kobe of this generation; the Michael [Jordan] of this generation so having that third championship I think is in obstacle in Kevin Durant's signing with the Lakers."
"Some people have said the Knicks, okay I kind of buy that because it's New York and Porzingis is there but would he need another player to go there with him and would the Knicks have the requisite cap space to bring in those number two players?
"The team I keep going back to… is Oklahoma City. I understand all the financial stuff involved with Oklahoma City and what they have with [Paul] George under contract and [Russell] Westbrook under contract, but I also know — with all the people sniping at him — it's the only place he can go to where all of it stops," he explained.
"You go back to Oklahoma City and you don't get that same social media c---. You go there and you have a chance to be on another super team with George [and Westbrook]."
"We know that there has been no bridge burned with Oklahoma City. Sam Presti has said the right things at the all times and at this point, I don't know what they're relationship is like, but the relationship with Westbrook is as good as it's been," Mannix revealed.
"I think it's okay and you know Russell Westbrook. He wants to win. If Kevin Durant says 'I want to go back there', I don't see Russell Westbrook blocking that from ultimately happening."
© Copyright IBTimes 2023. All rights reserved.