Kevin Durant 'Wanted No Part' Of LeBron James, Stephen A Smith Says
Golden State Warriors forward Kevin Durant wanted no part of LeBron James in Game 1 of the NBA Finals, according to ESPN commentator Stephen A. Smith.
James scored a career-best postseason tally of 51 points, eight rebounds and eight assists for the Cleveland Cavaliers as it looked like they would steal Game 1 at the Oracle Arena on Thursday night.
However, the impressive performance of James was not even the major headline by the end of the game as the now highly-scrutinized blunder by Cavaliers guard J.R. Smith virtually cost the visitors the win.
With George Hill missing a free throw that would have given the Cavs the lead, Smith got the rebound with the game tied at 107-107 with just 4.7 seconds left in the fourth quarter.
However, he thought they were leading and instead of going for a follow-up shot, dribbled out the clock before realizing too late.
As the game went into overtime, the Warriors' blushes were spared as they went on to win 124-114 and take a 1-0 series lead in the NBA Finals.
Stephen Curry ended the game with 29 points for the Warriors while Durant finished with 26 points, 11 rebounds and nine assists with nine points coming from free throws.
Durant was notably awarded last year's Finals MVP, with many in the basketball world arguing he was slowly surpassing James as the best player in the league.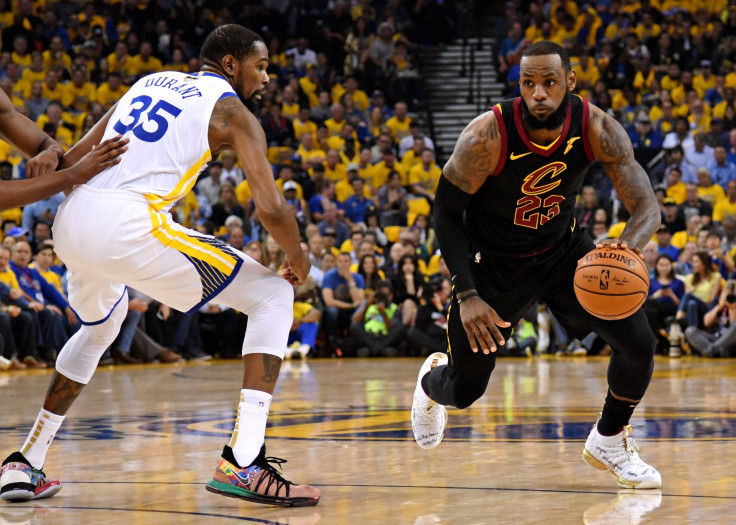 However, in comparison to James' display Thursday, Durant was disappointing as Stephen A. unloaded on the former Oklahoma City Thunder star for not replicating his performances from last year's NBA Finals and needing luck to win against a heavy underdog team.
"Let's just say MVP, no MVP. You're looking for a replica of that performance [from Durant]," Smith said on ESPN's First Take. "The point is that to everybody else's eyes, you essentially have the glow."
"So to turn around in the very ensuing NBA Finals [after 2017], and in Game 1 while this dude [LeBron] you came for, because you wanted to stake your claim that a new era had arrived, 'It's my time now, I'm going to join forces with a super team and become a champion and a Finals MVP and I'm going to do all this stuff.' In the very first game you went against this man in the ensuing NBA Finals, he [LeBron] said 'Hold up, I haven't gone anywhere. Here's my 51 for you, here's me taking it to the hole, here's me posting, here's me pulling up for threes, here's me driving up to the basket' and your response is free throws? And 4-for-11 shooting in both halves."
"Last night, Game 1, I'm going to repeat myself, regurgitate it till the Cavs come home, Kevin Durant looked like he wanted no part of LeBron James. That to me was shocking and relatively disappointing. What you're asking for KD is to be the model of consistency you have always been. If you are a career 24 point-per-game scorer, if losing to Miami when you were in OKC, you averaged 33 off better than 50 percent shooting and then you go up against LeBron James in these NBA Finals, Game 1 - I don't expect to see you deferring to Steph Curry."
Game 2 of the NBA Finals takes place at the Oracle Arena again Sunday.
© Copyright IBTimes 2023. All rights reserved.