Kevin Ware's Broken Leg Injury and 6 Other Gruesome Sports Injuries [VIDEOS]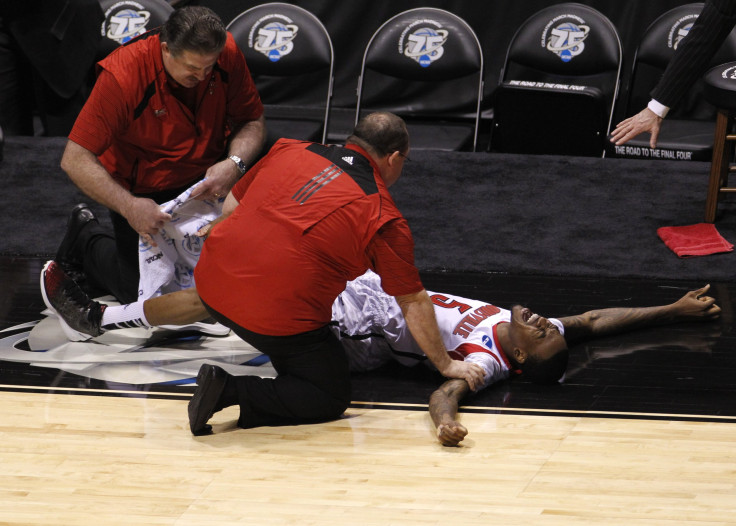 On Sunday afternoon, millions of college basketball fans witnessed one of the most gruesome injuries to ever occur during a televised sporting event.
During yesterday's Elite 8 matchup between the Louisville Cardinals and the Duke Blue Devils, Cardinals guard Kevin Ware suffered a devastating broken leg. Ware leapt to contest a shot from the perimeter, only to land awkwardly and snap his leg in half. The broke was so severe that the bone from Ware's leg was visible to bystanders, allegedly causing several Cardinals players to vomit on the sidelines, New York Times reporter Zach Schonbrun noted.
While Ware's injury was certainly not for the faint of heart, it was hardly the first gruesome sports injury to be broadcast to a television audience. Throughout the decades, sports fans have borne witness to shocking, gruesome and, at times, potentially deadly injuries. Here are some of the most severe injuries suffered during sporting events.
[Warning: Videos contain graphic images]
Willis McGahee
Possessing a rare blend of side and speed, running back Willis McGahee was a crucial part of the Miami Hurricanes' 2002-03 National Championship run. Sadly, the young halfback never got the chance to finish out the season. During the fourth quarter of the 2003 Fiesta Bowl, McGahee took a helmet-to-knee hit from Ohio State Buckeyes safety Will Allen, causing simultaneous tears of his ACL, PCL and MCL. Thankfully, McGahee was considered such a talent that he was still drafted in the first round of 2003 NFL Draft, despite the fact that he spent his entire first season rehabbing the knee.
Shaun Livingston
Shaun Livingston's NBA career will also be a story of "what could have been," thanks in large part to this brutal knee injury. A 6-foot-7 point guard that brimmed with potential, Livingston was just hitting his stride as an NBA player when he shredded the knee during a 2007 game. He was attempting to finish off a fast break layup when his left leg completely gave way, folding in half and tearing three major knee ligaments. It took years for Livingston to work his way back into playing shape.
Sid Vicious
In 2001, World Championship Wrestling star Sid Vicious was a main-event attraction and a heavyweight title contender. However, management wanted the 300-pound behemoth to add some flair to his repertoire, and pushed him to attempt high-flying maneuvers. Vicious tried to oblige during a championship matchup with Scott Steiner, attempting a flying kick from the ring's turnbuckle. Unfortunately, he landed awkwardly on his left leg, snapping his tibia and fibula cleanly in two. The gruesome break required three years of rigorous rehabilitation.
Allan Ray
In terms of sheer shock value, former Villanova University guard Allan Ray's eye injury may never be equaled. During a 2006 Big East Tournament game, the college basketball star was battling for a loose ball when an opposing player's finger dug Ray's eye out of its socket. For a brief, horrifying second, Ray's eye appeared to have bulged out of his head. Amazingly, Ray suffered only slight damage to his eye, which was repaired after the game.
Clint Malarchuk
Although it happened nearly a quarter of a century ago, Clint Malarchuk's throat injury remains one of the most terrifying occurrences in the history of professional sports. During a 1989 game against the St. Louis Blues, the Buffalo Sabres goaltender got tangled up with a pair of defenseman in front of the net. Somehow, Blues defenseman Steve Tuttle's skate raked across his throat, severing his carotid artery and resulting in a frightening amount of blood loss. According to ESPN, Malarchuk's injury was so disturbing that it caused two fans to suffer heart attacks. Thankfully, Buffalo's heroic trainer Jim Pizzutelli, a Vietnam veteran, managed to save the goaltender's life.
Joe Theismann
Joe Theismann's infamous broken leg is the standard by which all other sports injuries are measured. During a 1985 nationally broadcast Monday Night Football game against the New York Giants, the Washington Redskins quarterback stepped up in the pocket to avoid an incoming pass rush. Legendary Giants linebacker Lawrence Taylor delivered a bone-crushing hit, snapping Theismann's tibia. The injury was so gruesome that even the notoriously hard-nosed Taylor was left screaming to the sidelines for medical help.
© Copyright IBTimes 2023. All rights reserved.