Keystone XL Pipeline Battle Begins In Senate As Dems Push Trio Of Amendments To GOP-Backed Bill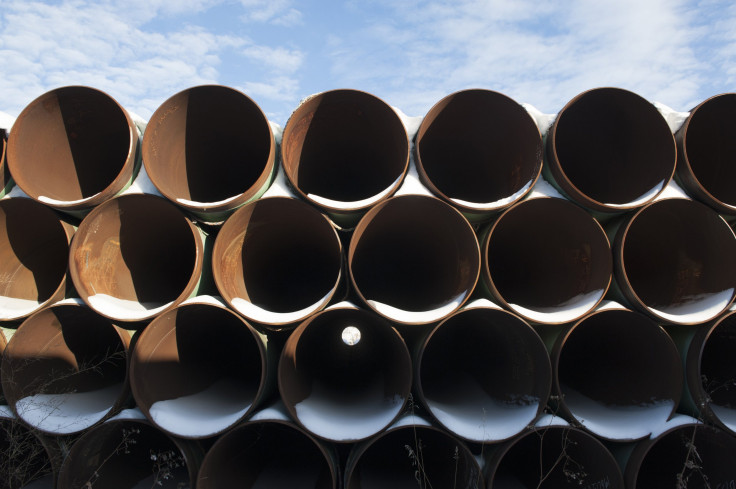 Update as of 3:55 p.m. EST: The Senate voted Tuesday to table two of three amendments to a pro-Keystone XL pipeline bill. A proposal from Sen. Al Franken, D-Minn., to require U.S. iron and steel be used to build the pipeline failed by a vote of 54-46. Senators voted 57-42 to kill an amendment from Sens. Ed Markey, D-Mass., and Tammy Baldwin, D-Wisc., which would have mandated that all oil shipped via the Keystone XL be excluded for export. However, a third proposal from Sens. Rob Portman, R-Ohio, and Jeanne Shaheen, D-N.H., passed by a vote of 94-5. The measure promotes energy efficiency in commercial and federal buildings.
The latest battle over the Keystone XL oil pipeline kicked off Tuesday in the U.S. Senate. Lawmakers are slated to vote this afternoon on a trio of amendments that would slap restrictions on the proposed Canada-to-Texas conduit.
Democrats say the measures will protect the economic interests of middle-class Americans by ensuring the 1,700-mile pipeline uses only U.S. materials and supplies oil strictly for U.S. consumption. Republicans argue the amendments are unusually burdensome for construction projects and could set a dangerous precedent for future infrastructure investments.
At the center of the fight is a broader GOP-backed bill to force U.S. President Barack Obama to approve the Keystone XL. The House passed similar legislation on Jan. 9, marking the 10th time the chamber has approved a Keystone bill. Obama has vowed to veto any pro-pipeline bill that reaches his desk.
The president has the final say on TransCanada Corp.'s $8 billion pipeline proposal because it crosses international borders. The administration has been mulling its decision for more than six years, delayed by concerns about environmental and climate change impacts and objections from landowners. If built, the Keystone XL would ship 830,000 barrels a day of heavy Canadian crude oil to Steele City, Nebraska, where it would connect with existing pipelines to Texas Gulf Coast refineries.
The Senate amendments readied for floor action Tuesday include a proposal from Sens. Ed Markey, D-Mass., and Tammy Baldwin, D-Wisc., to block any crude oil that moves through the Keystone XL from being exported outside the United States. Any refined fuel products made from that crude would also be excluded for export. "America should not be a middleman between dirty foreign oil and thirsty foreign markets, just so oil companies can make more profits," Markey, a member of the Senate Environment and Public Works Committee, said in an earlier statement. "The oil industry has said this is about energy security, but I am calling their bluff."
Another amendment, from Sen. Al Franken, D-Minn., would require that U.S.-made iron, steel and manufactured goods are used to build the Keystone XL, though exceptions could be made if the material is not reasonably available inside the U.S. or if its American supplies boost the costs of components by more than 25 percent. A third amendment from Sens. Rob Portman, R-Ohio, and Jeanne Shaheen, D-N.H., would promote energy efficiency in commercial buildings and federally managed properties. The measure is a slimmed-down version of the senators' broader efficiency legislation, which has failed several times to advance in Congress.
"Republicans are going to have to make a choice: Will they continue to fight for narrow special interests, or will they work with Democrats to advance America's middle class by creating more jobs and putting more money in the pockets of American families?" Sen. Charles Schumer, D-N.Y., said on the Senate floor early Tuesday about the amendments. "Time and these votes will tell."
Sen. Lisa Murkowski, R-Alaska, who chairs the Senate Energy and Natural Resources Committee, expressed opposition to the Franken amendment. "As much as I support Buy-American and making sure that we receive the benefit of these jobs … I'm concerned about the Congress setting a precedent here," she said, Fuel Fix reported Tuesday. "I think it puts us on a potentially pretty slippery slope: If we're going to set the precedent here for Keystone XL, why wouldn't we do it for other projects, wind turbines? Why not on our vehicles, on our autos? Why not everything?"
Sen. John Thune, R-S.D., urged Obama to approve the pipeline during a Senate floor speech Tuesday morning. South Dakota is one of six U.S. states through which the crude oil pipeline would cross. He said the pipeline would generate over $100 million in earnings for South Dakota and create thousands of construction jobs. "Approving the Keystone XL pipeline should be a no-brainer," Thune said. "If the president is serious about helping middle-class families … then he'll approve the Keystone XL bill when it gets to his desk."
The Senate amendment votes come as another Keystone XL battle unfolds in Nebraska. Several landowners are suing TransCanada over the pipeline's proposed path in the state. The Nebraskans allege the route is invalid because a state law permitting the Keystone XL is unconstitutional, according to lawsuits filed last Friday.
The Nebraska Supreme Court earlier this month upheld the law, L.B. 1161, and ruled that TransCanada's proposed route is valid. But judges said they were divided and could not reach a substantive decision on the law, so the measure was left in place by default. The law gives TransCanada the power of "eminent domain," which allows the company to build the pipeline on properties where landowners have refused to sign voluntary easement agreements.
The latest legal challenges allege TransCanada doesn't have authority to claim eminent domain under L.B. 1161. "We are committed to getting an answer to the question: Is the current Nebraska law constitutional or not under our State structure," attorney Dave Domina said in a Friday statement.
Obama had said he would postpone a final decision on the Keystone XL until the original case in Nebraska was resolved. It's unclear whether this second legal round will further delay the process.
© Copyright IBTimes 2023. All rights reserved.