Keystone XL Pipeline: Enbridge Inc. To Pump More Canadian Oil To United States Amid Obama's Keystone XL Pipeline Decision Delay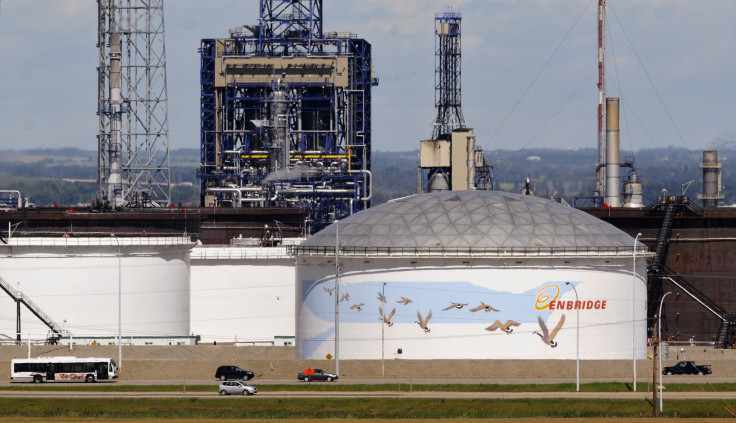 Enbridge Inc. (NYSE:ENB) is steadily advancing plans to build a pipeline network akin to the Keystone XL. The Calgary company is progressing on at least two projects that will help it move more Canadian tar sands oil to the U.S. Gulf Coast, recently revealed documents and a federal ruling last week indicate.
In one project, Enbridge is proposing to switch crude oil from one pipeline to another before it crosses into the United States -- a move that enables the company to circumvent a lengthy federal permitting process. Environmental groups first learned about the plan, which wasn't previously publicized, after the U.S. State Department released documents related to the crude switch. The organizations, including the National Wildlife Federation and Sierra Club, flagged the plans to the media Thursday.
The same green groups last week decried a federal judge's decision to let a second Enbridge project move forward. The company is building a $1.9 billion line between Pontiac, Illinois, and Cushing, Oklahoma, which will link together two existing pipelines and effectively achieve what the Keystone XL aims to do: connect oil fields in the Alberta province to refineries in Texas. Environmentalists had sued to require the project undergo an extensive environmental review.
Enbridge's maneuvers join an array of efforts by North American energy firms to alleviate the crude oil bottleneck in Canada's tar sands region. The lack of existing infrastructure -- and major environmental opposition to new pipelines -- is delaying deliveries out of Alberta and depressing the price developers can fetch for their crude. In the absence of TransCanada Corp.'s (NYSE:TRP) Keystone XL, companies are racing to capitalize on the demand for more capacity.
"Everybody is looking at other ways of moving crude from Alberta to the U.S., and they're having to be creative … and do a variety of smaller things that can accomplish the same goal," John Auers, executive vice president of Turner, Mason & Co., a Dallas engineering consulting firm, told International Business Times. Enbridge's plans are "just a logical extension of that strategy."
U.S. and Canadian environmentalists are mobilizing to block such strategies, which they warn could undermine efforts to scale back global warming. Mining and processing tar sands crude oil emit more carbon dioxide than conventional oil extraction. The crude itself also has proved more difficult to clean up when it spills into waterways.
For the oil-switching project, Enbridge would build four links between its Alberta Clipper line and the adjacent Line 3, both of which are in operation. The connector would allow Enbridge to transfer oil from the Clipper to Line 3 in Gretna, Manitoba, about 1.5 miles north of the border with North Dakota. About 16 miles into the United States, Line 3 would transfer the oil back to the Clipper, which connects to terminals in Superior, Wisconsin.
Enbridge detailed the plans in a June letter to the U.S. State Department, which oversees cross-border infrastructure projects. The company is applying to nearly double the Clipper's capacity to 880,000 barrels a day, a proposal that remains under agency review. In a July 24 letter, a mid-level State Department official said Enbridge could proceed with its plan.
Environmental groups charge the move is illegal. "It's just blatantly in violation of what the law requires," Jim Murphy, senior counsel for the National Wildlife Federation, said in an interview. He noted the Clipper expansion proposal is undergoing an extensive environmental review, and allowing Enbridge to move more oil via Line 3 "makes the current permitting process basically meaningless. … It amounts to an illegal approval of their expansion plans with no public process."
Enbridge spokeswoman Terri Larson said the State Department "has been fully briefed on the interconnection plans and has confirmed that this work does not require any federal approvals, nor does it require any state, or local approvals in the U.S." In a statement provided to IB Times, she said the project is part of Enbridge's "system optimization efforts to provide the flexibility and efficiency to transport increased volumes of crude oil from Canada into the United States under our existing presidential permits."
Larson noted work on the four interconnections is "well underway" and is expected to be "substantially completed" next month. Murphy said his organization is considering legal options to stop the Clipper-Line 3 connection project though environmental groups hope by bringing the plans to the public's attention, they can pressure government officials to revoke their approval.
The talk of a legal fight comes just days after National Wildlife Federation and Sierra Club lost their challenge to Enbridge's Illinois-to-Oklahoma pipeline. The groups argued the government violated the National Environmental Protection Act by failing to conduct an environmental impact review. Construction on the project began about a year ago.
A federal court ruled Aug. 18 because the 600-mile line is primarily on privately owned land -- and is entirely within U.S. borders -- "no federal statute authorizes the federal government to oversee or regulate the construction project," the written opinion said. When completed, the Flanagan South Pipeline Project will have an initial capacity of 600,000 barrels of oil per day and eventually ramp up to 880,000 barrels -- slightly more than the proposed capacity of the Keystone XL.
The pipeline, which will also cross through Missouri and Kansas, is nearly completed, Enbridge said. It is expected to be in service in the fourth quarter of 2014.
As Enbridge advances its plans, however, TransCanada's Keystone XL remains mired in delays. The project awaits a federal permit from the Obama administration, which is under increasing pressure from the project's backers and opponents to make a decision about the 1,179-mile pipeline. If built, the Keystone XL would carry 830,000 barrels of oil a day from Alberta to Steele City, Nebraska, where it would connect with an existing southern leg that runs to refineries in the Texas Gulf Coast.
Obama has postponed his decision until a legal dispute in the Nebraska Supreme Court is resolved. That might not happen until 2015. Three landowners are challenging a state law that gave Gov. Dave Heineman the power to approve the 300-mile pipeline section in Nebraska. In February, a federal judge ruled in the landowners' favor and invalidated the route. Heineman has asked the state Supreme Court to overrule that decision. While the court is expected to hear oral arguments from both sides on Sept. 5, a final ruling probably won't be delivered until the new year.
© Copyright IBTimes 2023. All rights reserved.
FOLLOW MORE IBT NEWS ON THE BELOW CHANNELS