Khurshid Free to Express His Views: Priyanka Gandhi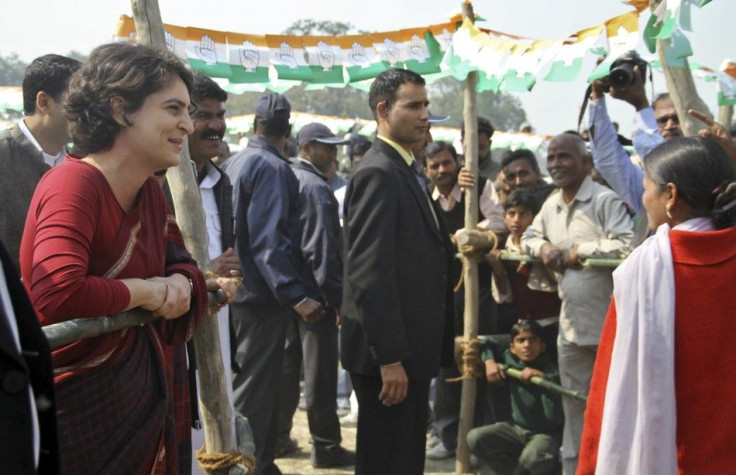 Congress General Secretary Rahul Gandhi's sister and party's star campaigner Priyanka Gandhi on Monday expressed her opinion on the ongoing controversy between Salman Khurshid and the Election Commission of India (ECI) and said that the Union Law Minister was free to express his opinions.
Gandhi said that Khurshid was free to express his thoughts and opinions in a democratic country.
During election time, these things happen. People are free to express their feelings in a democratic country, Gandhi said.
She said that even the Election Commission is free to make opinions.
Gandhi said that she is confident that the conflict between the two groups will be sorted out.
Khurshid, in the eye of a storm over his violations of model code of conduct imposed by the ECI by speaking about Muslim quotas in the ongoing Uttar Pradesh election campaign.
He met Prime Minister Manmohan Singh on Sunday over the issue.
He reportedly told the PM that he is ready to accept any decision taken by the latter on him after clamour for his sacking from the union cabinet by the Opposition grew louder following an ECI letter to the President.
The ECI wrote to the country's President on Saturday to rein in Salman Khurshid who repeatedly defied the poll body and violated model code in election campaigns in Uttar Pradesh.
It said Khurshid first said that the Congress would provide a quota of 9% reservation to the minorities within the existing quota of 27% for OBCs and also indicated that Muslims having a sizeable population will be benefited from this move.
The ECI said it acted against him and censured him on complaints from a political party that such announcement was a violation of the Model Code of Conduct, but he continued to repeat the same.
Earlier Khurshid had claimed at a rally at Azamgarh in Uttar Pradesh that party supremo Sonia Gandhi was in tears when she was shown the images of the Batla House encounter in which Muslim terrorists were killed.
Khurshid was trying to woo the Muslim voters apparently on the last day of campaigning (Feb 9) for the second phase of polls on Feb 11 in Uttar Pradesh but his words sparked a strong reaction.
Congress disputed it. Its senior leader Digvijaya Singh said Friday: Soniaji never cried. These are the words of Salman Khurshid.
With 18 percent of voters in Uttar Pradesh belonging to the minority community, there is a mad rush among the political parties to woo the Muslims.
© Copyright Thomson Reuters 2023. All rights reserved.