Kim Jong Un Lauds Rocket Launcher Test As US, South Korean Officials Prepare To Meet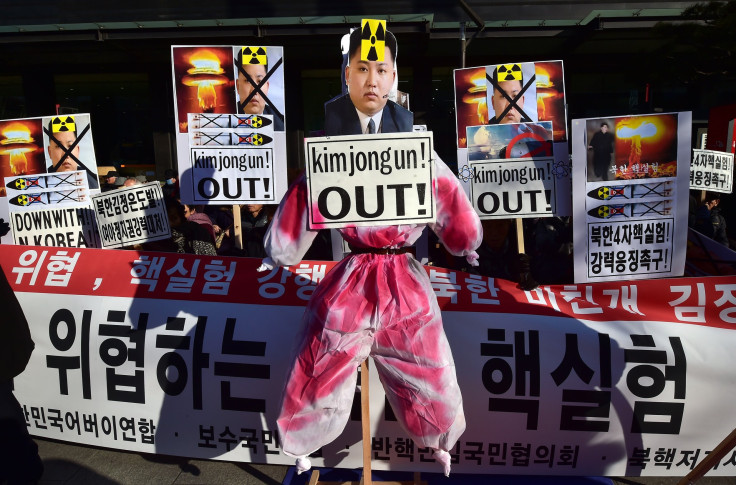 South Korean and U.S. officials are set to hold a bilateral meeting in Seoul on Tuesday to discuss actions in response to North Korea's nuclear threats and provocations, officials in Seoul said, according to Yonhap. The latest meeting comes even as North Korean leader Kim Jong Un inspected his military's test-fire of a new large-caliber multiple rocket launcher, North Korea's KCNA news agency said Tuesday.
The meeting between South Korean and U.S. officials comes a day after the allies held their first high-level meeting in the South Korean capital, where they discussed the implementation of bilateral and international sanctions against Pyongyang over its nuclear test in January and its rocket launch in February. The meeting Tuesday will be held between Kim Hong-kyun, South Korea's special representative for Korean Peninsula peace and security affairs, and ambassador Sung Kim, U.S. special representative for North Korea policy, Yonhap reported.
"On the previous day, the talks focused on concrete sanctions-related issues such as the implementation of U.N. Security Council (UNSC) sanctions and unilateral sanctions. But today, the discussions will be about the overall North Korean nuclear issue and joint efforts to prevent additional provocations," an official at South Korea's foreign ministry said, according to Yonhap.
Kim Hong-kyun is expected to discuss the results of his visit to Beijing last Friday, where he discussed ways to implement the latest sanctions resolution by the UNSC with Chinese officials. Kim Hong-kyun and his U.S. counterpart are set to talk about ways of preparing for three-way cooperation with China, Yonhap reported.
On Monday, the U.S. nuclear envoy said that the allies would implement the latest sanctions against Pyongyang with "vigor and energy" along with the international community, as Pyongyang did not seem to be backing away from test-fires and nuclear advancements.
Kim Jong Un expressed satisfaction over the "perfect accuracy" of the launch system and praised officials and technicians for the large-caliber multiple rocket launcher, KCNA said Tuesday, according to Yonhap. The launcher is expected to increase "the capability of the Korean People's Army (KPA) to mount a precision attack on the enemies' targets in the operational theater in the southern part of Korea," KCNA reportedly said.
It was not clear when the North Korean leader inspected the launcher but KCNA reportedly claimed that it was "the final test-fire" of its multiple rocket system before being deployed for actual combat.
The latest test of the launcher follows Pyongyang's test-fire of five projectiles, believed to be short-range, into the waters off its east coast on Monday. The test-firing comes as a part of Pyongyang's retaliation over the largest-ever annual drills between the U.S. and South Korea. Last week, North Korea also launched two medium-range ballistic missiles into the East Sea, one of which was believed to have blown up mid-flight.
On Tuesday, North Korea's propaganda website Uriminzokkiri also revealed video footage in which Pyongyang attacks South Korean President Park Geun-hye and her presidential office, Yonhap reported. The three-minute footage showed photos of Park and the Blue House in crosshairs, which were then shattered like glass.
Despite several threats against the South Korean president, who has been calling for stricter measures from the international community to contain Pyongyang's nuclear advancements, this is the first time that the reclusive country has shown footage of an attack on her.
© Copyright IBTimes 2022. All rights reserved.
FOLLOW MORE IBT NEWS ON THE BELOW CHANNELS