South Korea Forms 'Spartan 3000' Unit To Attack North Korea In Case Of Contingency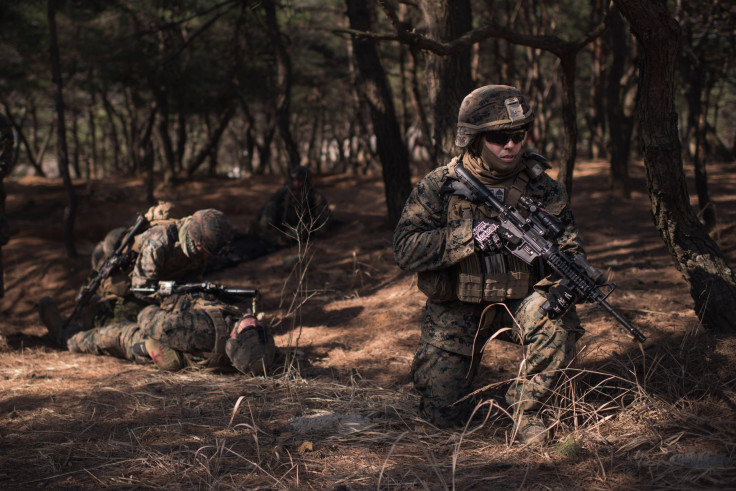 The South Korean Marine Corps has formed a new mobile unit assigned to attack North Korea in case of contingency, a Seoul military official told Yonhap Sunday. The regiment, "Spartan 3000," consists of 3,000 troops and was launched in the southeastern coastal city of Pohang, the report said.
The troops will be on standby to be deployed to all the parts of the Korean peninsula within a day and will be trained to destroy important North Korean military facilities. During other times the unit will be deployed to handle emergency situations and disasters, Yonhap reported.
"In the past, the battalion-level unit took 24 hours to be deployed across the Korean Peninsula, while the regimental-level unit took 48 hours," the military official said, according to Yonhap, adding: "However, the new unit will be able to operate within 24 hours even at the regimental level."
The operational skills of the unit were tested during the largest joint annual drills between South Korea and the U.S. The drills were slammed by North Korea, which threatened to attack the U.S. and South Korea over it and called them a provocation.
As retaliation, Pyongyang has also been conducting similar military drills aimed at destroying key South Korean facilities.
On Sunday, North Korean media agency KCNA said that Kim Jong Un guided landing and anti-landing exercises of the Korean People's Army (KPA). The report added that the drill involved "surface ships and sharpshooters of the East Sea Fleet" of the country's navy, "pursuit planes" of KPA Air and Anti-Air Force, artillery sub-units and some other forces of the 108th Motorized Infantry Division of the KPA.
Kim expressed satisfaction over the drills and said: "Any enemy group will never land in seashore of the country as our reliable artillerymen stand guard in full readiness to wipe out the aggressors," KCNA Watch reported, citing the North Korean news agency. Kim also called for the training to be "intensified" among the units and sub-units of the Korean army according to the tactics set for coastal defense.
The latest drills from Seoul and Pyongyang follow North Korea's rocket launch, nuclear test, and missile tests that have been slammed by the international community. The U.S., South Korea and the United Nations Security Council slapped sanctions against North Korea over the missile tests and its nuclear advancements even as Kim called for more nuclear weapons.
© Copyright IBTimes 2022. All rights reserved.
FOLLOW MORE IBT NEWS ON THE BELOW CHANNELS