Kim Jong Un Ready For War? North Korea Propaganda Video Shows Leader Displaying Military Prowess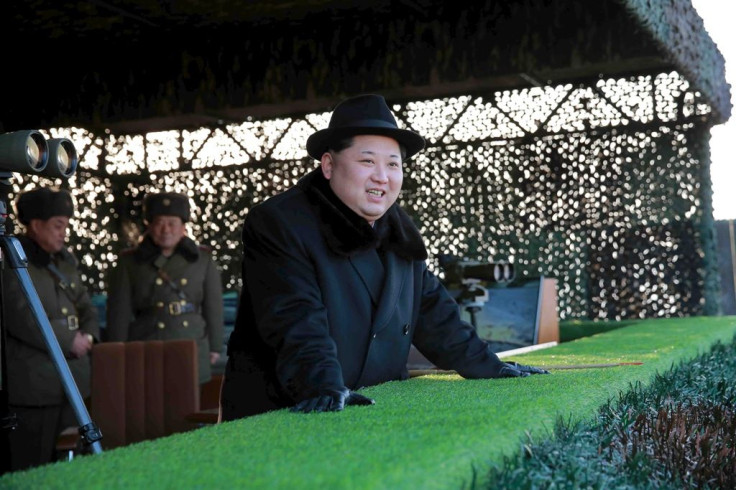 North Korean leader Kim Jong Un flaunted his military prowess in a new propaganda video released Thursday by the Korean Central Television. The hour-long video is titled "Kim Jong-un the Great Supreme Commander and the Consolidation of a Powerful Army."
The video features Kim displaying his readiness for war by briefing his troops, military chiefs and also supervising missile launches. He is seen giving speeches and applauding as the state's weapons are displayed. The North Korean leader is also seen flying a plane as his co-pilot guides him on the throttle. He is also seen riding on top of a massive submarine.
The video comes just days after North Korea conducted an intermediate ballistic missile launch, which reportedly failed, near the northwestern city of Kusong. U.S. and South Korean officials believe the North tested a Musudan missile, which has an estimated range of up to 2,500 miles and could reach South Korea, Japan and Guam.
"This provocation only serves to increase the international community's resolve to counter the DPRK's prohibited activities, including through implementing existing U.N. Security Council sanctions," Pentagon spokesman Gary Ross reportedly said. "Our commitment to the defense of our allies, including the Republic of Korea and Japan, in the face of these threats, is ironclad."
In September, Pyongyang announced its fifth nuclear weapons test, which triggered a 5.3-magnitude earthquake, prompting the United Nations to ask its member nations to tighten sanctions against the reclusive country.
U.S. President Barack Obama has also condemned North Korea's nuclear provocations and warned of the "grave threat" posed by its military advancements.
© Copyright IBTimes 2023. All rights reserved.