Kimi Raikkonen Punishment Excessive Because It Was Lewis Hamilton, Villeneuve Says
Kimi Raikkonen was handed a 10-second time penalty for sending Lewis Hamilton into a spin on the opening lap of the British Grand Prix on Sunday and former Williams driver Jacques Villeneuve believes it would have been lesser if it was his teammate Valtteri Bottas instead.
The British driver started from pole position, but a poor start saw him being overtaken by F1 Drivers' championship rival Sebastian Vettel and teammate Bottas in the opening sequence of turns and was in danger of being passed by Raikkonen as well.
The Finn, who made a better start, tried to make a pass on Hamilton into Turn 3, but locked his front right and slid into the Mercedes rival's rear wheel sending him into a spin, which saw him drop to last in the opening lap.
A combination of aggressive driving and a fortunate safety car in the latter stages of the race saw Hamilton recover and finish second behind Vettel. Raikkonen, meanwhile, was handed a 10-second penalty which eventually saw him finish in third place.
The Ferrari driver admitted he was at fault after the race and accepted the penalty despite Hamilton accusing him of deliberately hitting him — which the Briton later admitted was a "dumb" thing to say.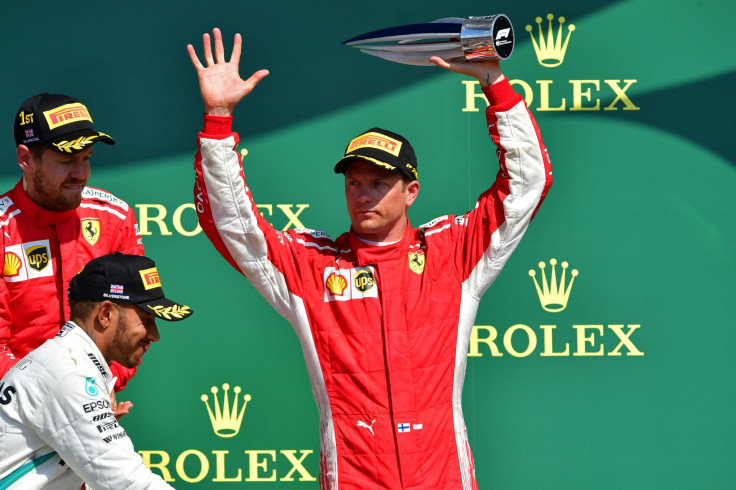 Villeneuve, however, believes the severity of the penalty was decided because it was Hamilton, driving his home race and fighting for the world championship. He insists the penalty would have been lenient if it was the Briton's teammate Bottas at the end of the opening lap collision.
"I don't understand why it's 10 seconds, and another time it's five, sometimes it's nothing," Villeneuve said, as quoted on Planet F1. "That's what's wrong. It's racing. … I don't like it when there are racing penalties, it should be for dirty driving, which is a different thing, or stupid driving.
"They decided that it's Lewis, we're in the UK, he's fighting for the championship, that's worth 10 seconds," he explained. "If it had been Bottas, it would have been five seconds, that's the thing."
The 1997 F1 Drivers' champion also questioned the consistency of the penalties being handed out. Vettel collided with Bottas on the opening lap of the French Grand Prix and despite the Mercedes driver suffering a tire puncture and finishing a lowly seventh, the German driver was handed just a five-second penalty.
Meanwhile, Red Bull Racing's Max Verstappen escaped a penalty after he made contact with Raikkonen in the Austrian Grand Prix. The Finn did not suffer any damage, but it did aid the Dutch driver in overtaking him, which eventually played a role in him winning the race following Hamilton's retirement.
"Sometimes you see things like Verstappen in Austria, when he touched Kimi," the 1997 champion added. "Why wasn't that a penalty? Just because Kimi didn't go off? If Kimi had gone off, then it would have been a penalty?"
"That's what's wrong, it's the action that matters, not what happens after the action, ultimately."
© Copyright IBTimes 2023. All rights reserved.