Kindle Fire User's Guide: 15 Essential Features and Tips for Amazon's Tablet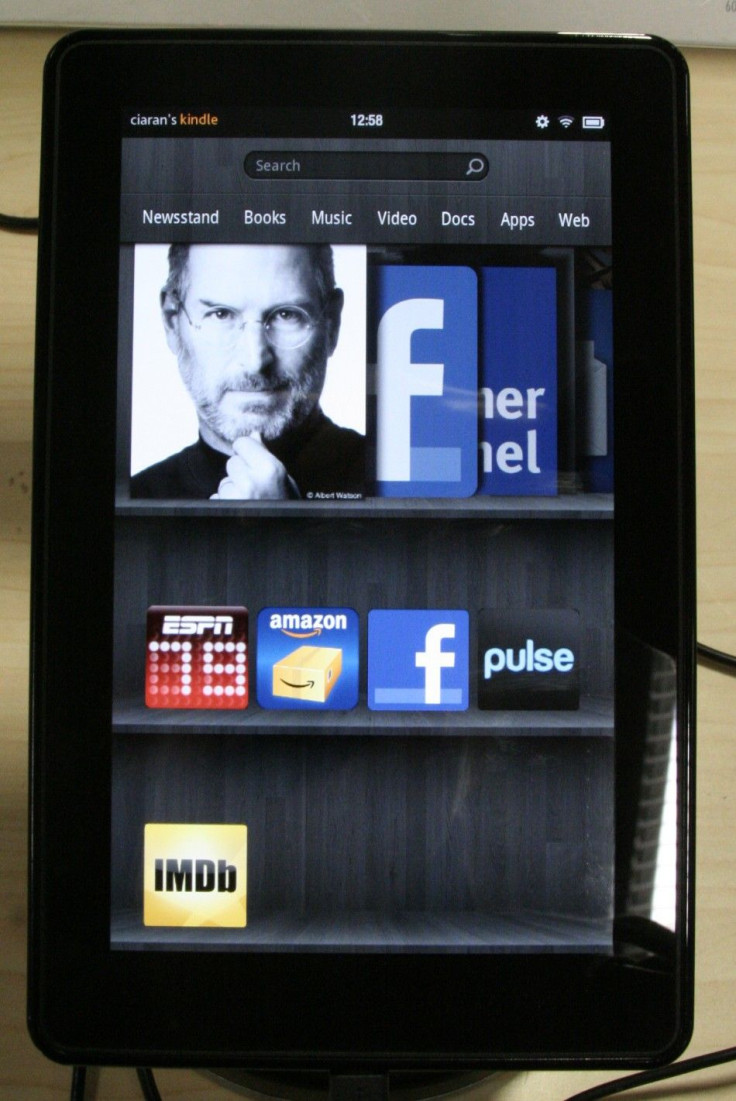 The Amazon Kindle Fire is one of the hottest holiday gifts this year. While the Kindle Fire is sleek, inexpensive and lightweight, you may have some questions about how to streamline your tablet and make it even easier to use.
We bring you the top 15 tricks and tips for making your new Kindle Fire a powerful and streamlined tool, including how-to save battery power, how-to download books for free, how-to download Android apps on the Kindle Fire, how-to check your memory, how-to search for specific words in an eBook and more.
Wi-Fi Password Protection
If you have children using the device, the password protected Wi-Fi option will prevent your child from browsing adult content. If you are worried about losing your Fire and giving someone access to your information or sites on the web, you may want to password protect Wi-Fi as well. The restrictions option can be found under the Kindle Fire's settings menu. Select restrictions and then select turn on. Users will then be prompted to give a password and confirm that password. Once a password has been chosen, users have the option of whether or not to password protect web browsing. Once your Kindle Fire is password protected, a small key icon will be located in the top right hand corner of the screen next to the battery.
Download New Applications
While the Kindle Fire comes preprogrammed with a number of apps, there are a number of applications you will need to download to make your tablet even better. Our must-have free applications include: Netflix, Hulu+, Angry Birds, Alarm Clock Xtreme Free, TweetCastle, Wikidroid for Android, Evernote and Wifi Analyzer.
Delete Unwanted Applications
When you first buy your Kindle Fire, it comes preloaded with some applications and documents that you might not want using up your memory. To delete unwanted applications or documents on your Fire, press on the item, hold down your finger, and options should pop up to favorite or delete an item. Select delete to rid your Kindle of the unwanted app.
Delete Unwanted Items from the Carousel
With the Kindle Fire software update, users have more control over what applications, web pages and information is kept in the prominent carousel on the homepage of the Kindle Fire. To remove items that are automatically placed in the Carousel, select an item and press down. Select the option to remove from Carousel. Yes, it's that easy!
Download Free Books
Most people will use their Kindle Fire to enjoy a book or two, but after spending $199 on your Fire, you might not be in the mood to buy more books. The Amazon Store offers a number of free classics that you can find by searching for Kindle Free Classics. You can also download free books from freekindlebooks.org, manybook.net, justfreebooks.info, feedbooks.com and thefreelibrary.com.
Maximize Battery Life
There are a number of tricks you can use to maximize your Kindle Fire's battery life. First, each time you are finished using your Kindle, be sure to put it to sleep by tapping the power button on the bottom of the Kindle. Another trick to maximize your Kindle Fire's battery life is to turn off WiFi when you do not need to be connected to the Internet. You can also lower the brightness of the Kindle Fire screen to preserve power. Lastly, you can set your Kindle screen to lock automatically (thereby setting it in sleep mode), which will also save power energy.
Close Running Applications
Applications that are running in the background will hurt your battery life and also might cause your Kindle Fire to slow down. To check what applications are running in the background of your Kindle Fire, return to the settings menu. Select more and then applications. Once you are in the applications section of the settings, you will be able to see all the applications that are running in the background of your Kindle Fire. Select an application that you wish to close and select force stop. The application will now be closed and you may notice your Kindle Fire is running faster than before.
Check How Much Memory You Have Remaining
After downloading, apps, books, music, video and magazines, you might be uncertain of how much memory you have available. To check the available memory on your Kindle Fire, touch the settings icon in the top right hand corner of your Fire. Select more and then select device. Once you're in the device viewing area you can see the available memory left as well as how much battery power is left on your Kindle Fire.
Look For A Specific Word in eBooks
Another easy trick is to search for a specific word in an eBook. While reading a book, select the magnifying glass at the bottom of the screen and then type in a word that you would like to find. You can also click directly on a word and hold down. Select more and you will see a number of options related to that word.
Highlight, Take Notes and Look Up Definitions in eBooks
The Kindle Fire makes reading books an even more enjoyable experience by allowing users to highlight, take notes and look up the definition of words easily. To highlight a passage in a book, press down on the first word and drag your finger over the area you wish to mark. When you lift your finger, the Kindle Fire will give you the option to Highlight the passage. It will then be marked in yellow. Using the same technique, the Fire gives you the option to make a note. You can then type the note and save it to the book. If you click on only one word, the Fire will define the word for you in a pop up bubble.
Show All Available Issues of Magazines and Newspapers
If you have subscriptions to daily newspapers or weekly magazines, you might notice that the issue that appears in your newsstand is the most recent one - all the others seem to disappear. Don't worry! The Kindle Fire keeps all your issues hidden behind each other. If you need to find an older issues, press down on the magazine or newspaper and an option will appear for you to see all the back issues of that periodical.
Clear the Amazon Silk Browser
Sometimes you might get bogged down with too many tabs in your Amazon Silk Browser. To clear out all the tabs at once, you can touch one tab, hold down on it and then select the option to close all tabs. You will then have a fresh browser with no open tabs.
Clear the Web History
After browsing on the Kindle Fire's Silk Browser, users can delete their web history and caches. In the web browser, click the menu button at the bottom of the screen and then select clear the cache and clear the history. This will free up your Carousel and get rid of unwanted information.
On-Screen Password Protection
For those who wish to use an on-screen lock, the option can be turned on by entering the settings menu of the Fire, selecting security and choosing on for the lock screen password option.
Access Google Android Apps
If you're disappointed by the size of the Amazon App Store, you can access the Google Android Market on you Kindle Fire to download other applications as well. To download Android Apps on your Kindle Fire, you can use the web site 4shared.com. We have more details on how to use 4shared.com if you want step-by-step directions.
© Copyright IBTimes 2022. All rights reserved.
FOLLOW MORE IBT NEWS ON THE BELOW CHANNELS