Knicks News: Amare Stoudemire Back Playing with New York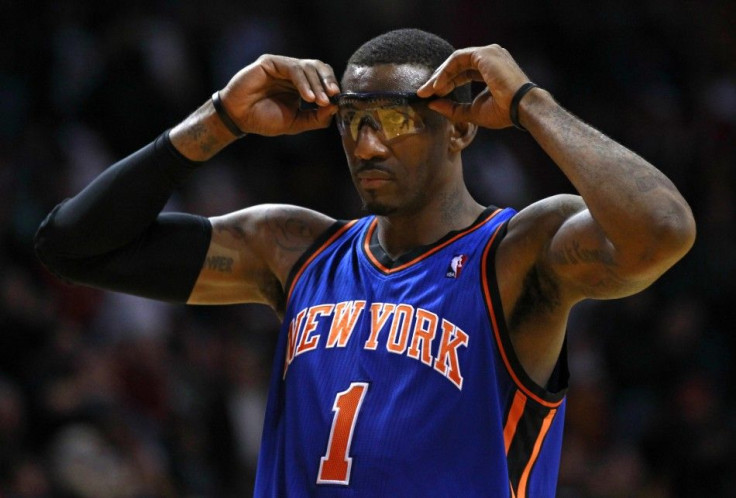 Two weeks ago, it looked like Amare Stoudemire's season was over. Now, the Knicks forward seems to be making some progress.
Stoudemire reportedly worked out with New York today, participating in some of the team's shootaround.
According to Al Iannazzone of New York Newsday, head coach Mike Woodson said Stoudemire won't play in the Knicks next two games. The team's doctors, in conjunction with Stoudemire, will determine when he will be ready to play.
After injuring himself against the Pistons on Mar.24, Stoudemire was diagnosed with a bulging disk in his back. Initial reports said he would be out indefinitely, but the forward received an epidural shot that is expected to help him heal in two to four weeks.
The Knicks aren't exactly struggling without Stoudemire. New York has gone 5-2 with Stoudemire on the bench. Point guard Jeremy Lin has also been injured during that time period.
New York's defense has excelled without Stoudemire. They are allowing just 90 point per game since he went down with the injury. This would put them fourth in the league in points given up if they had been doing so all season long.
Stoudemire has given no indication about when he thinks he will be able to play in a game, though he's expected to be back for the postseason. The NBA Playoffs get underway on April 28.
The Knicks are currently the seventh seed in the Eastern Conference. They're 1.5 games ahead of ninth seeded Milwaukee, whom they play Wednesday night. The Knicks face the top seeded Bulls Tuesday night in Chicago.
New York is not expected to get Jeremy Lin back in time for the first round. The Knicks would probably have to make it to the second round of the playoffs for Lin's torn meniscus to heal in time for him to return this season.
© Copyright IBTimes 2023. All rights reserved.