Knicks Rumors: Is Kevin Durant, Kyrie Irving, Anthony Davis Joining NY Possible? How It Can Happen
After rooting for the NBA's worst franchise of the last two decades and watching a team that will finish comfortably at the bottom of the 2019 standings, New York Knicks' fans are dreaming big. In the most important offseason in team history, there is a notion that Kevin Durant, Kyrie Irving and Anthony Davis could all join the Knicks this summer.
There have been rumors linking each superstar to New York over the past several months. With the cap space available to sign two max free agents and a couple of very valuable trade assets, you can bet that the Knicks will take some big swings in July.
Is it probable that the Knicks will manage to acquire arguably three of the league's 10 best players within the span of just a few days? Of course not, but the odds are increasingly likely that at least one of those All-Stars will be wearing a Knicks' uniform for the 2019-2020 season and beyond.
An unlikely, yet very possible scenario exists in which the Knicks land Durant, Irving and Davis this summer. Let's take a look at what needs to happen in order for New York's dream to become a reality.
Boston Celtics suffer an early playoff exit
It's safe to say Irving's free agency will be greatly affected by the playoffs. The point guard announced his intention to stay in Boston before the season started when the Celtics were the overwhelming favorites to win the East. When the team was struggling as the Knicks created the chance to sign a second max free agent, he refused to commit to re-signing with the Celtics.
Boston can offer Irving the most money, and it's hard to believe that he'd leave a team that comes close to winning a title. Falling short of reaching the conference finals, however, won't bode well for the Celtics, and that seems to be the most likely scenario. Boston is headed for a No.4 or No.5 seed and second-round matchup with the Milwaukee Bucks, who have easily been the NBA's best team.
If somehow Boston can't get past the Indiana Pacers in the first round or can't win more than a game against Milwaukee, expect speculation that Irving is headed elsewhere to increase exponentially.
New York lands a top-two pick in the draft lottery
The Knicks' chances of trading for Davis depend on the May 14 lottery. New York has a 14 percent chance to get the No.1 overall pick. If New York wins the lottery, it's reasonable to think Davis is theirs if they want him. The New Orleans Pelicans would gladly trade the star big man for the opportunity to draft Zion Williamson.
New York has a 13.4 percent chance to get the No.2 pick, and even that would allow the Knicks to offer the Pelicans an intriguing package. Murray State guard Ja Morant is projected to be a future All-Star. Brandon Ingram and Jayson Tatum have only hurt their value as assets this season. Davis has also acknowledged that he'd like to play in New York, eliminating the concern that Boston might have of the All-Star leaving as a free agent in 2020. The Celtics could very well take their best offer to the Pelicans off the table if Irving informs them he's not staying.
The Pelicans reportedly turned down the Knicks' offer at the trade deadline. They would have to seriously consider one that includes Morant, Mitchell Robinson, Kevin Knox, Dennis Smith Jr. and future first-round draft picks.
Kevin Durant doesn't change his mind
While no one knows for sure what Durant plans to do this offseason, it's very easy to connect the dots. Most NBA insiders believe the two-time NBA Finals MVP will join the Knicks. His company is moving to a New York City office. There's so much noise about Durant leaving the Golden State Warriors that Draymond Green even brought it up during an in-game argument that forced him to be suspended from the team.
Unfortunately for the Knicks, free agency is still months away. Maybe Durant will decide to stay in Golden State after winning a third straight championship. The forward might look at what LeBron James has done and how his decision to join a team that wasn't close to winning a title has been a complete disaster. There's also the fact that James Dolan keeps making negative headlines. Who knows what to make of Durant's outburst with the media over questions about the Knicks?
The Knicks' offseason ultimately hinges on getting Durant. He would make New York a much more attractive option for a free agent like Irving—who is good friends with both Durant and Davis—and give the Knicks a reason to sell high on young assets and go after a championship in 2020.
Unless New York can sign one of the NBA's few elite superstars, they might be best served to continue their slow rebuild and see what their recent draft picks can do.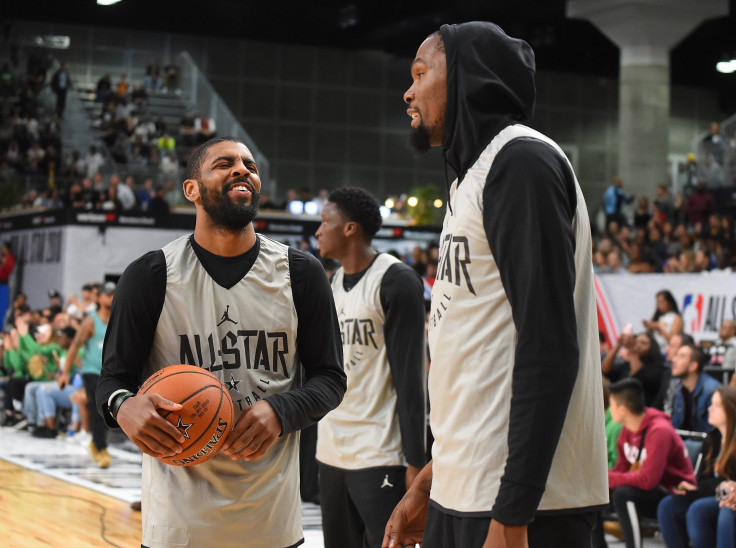 © Copyright IBTimes 2023. All rights reserved.