Kobane Could Fall To ISIS, US Airstrikes 'Not Enough To Save' Kobane: Pentagon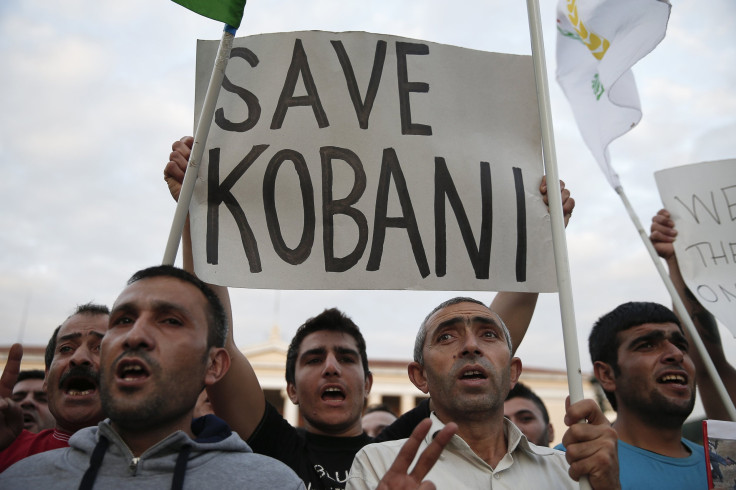 The Pentagon acknowledged Wednesday that Ayn al-Arab, known to locals as Kobane, could fall to the Islamic State group. The militants have been advancing on the Syrian border town for weeks while severely outnumbered Kurdish forces are trying to push them back.
"I think we all understand that that's a possibility, that Kobane could be taken. We recognize that," Pentagon press secretary Rear Adm. John Kirby told reporters Wednesday. "We're doing everything we can from the air to try to halt the momentum of [the Islamic State] against that town, but that air power is not going to be alone enough to save that city."
If ISIS, as the militant group was formerly known, does seize Kobane, it would have control of about 60 miles of land from its de facto headquarters in the Syrian city of Raqqa to the Turkish border. So far, ISIS has seized at least 325 villages and towns surrounding the city, but Kurdish fighters with the People's Protections Units, or YPG, haven't given up.
The U.S. launched its first series of airstrikes on militants near Kobane last week. As militants continued to encroach on the city, the U.S. and its allies in the region increased airstrikes Wednesday, according to the U.S. Department of Defense. Around 45 ISIS fighters were killed in airstrikes Wednesday and five of their vehicles were destroyed, according to the Syrian Observatory for Human Rights. However, according to the Pentagon, airstrikes may not be enough to save Kobane and ground forces are not an option.
"I understand that there are fighters, and they are brave, and we recognize the sacrifices they are making, but we don't have military-to-military -- we don't have a force inside Syria that we can cooperate with and work with," Kirby said. Two weeks ago, the U.S. pledged $40 million in aid for Syrian opposition groups that are fighting ISIS as well as Syrian President Bashar Assad's regime forces.
If ISIS did take Kobane, the proximity to Turkey would provide the militants with new routes to bring in foreign fighters and weapons. It would also provide new places for the militants to export oil, increasing their cash flow.
"We all need to prepare ourselves for the reality that other towns and villages, and perhaps Kobane, will be taken by ISIL," Kirby said.
Fighting has forced more than 180,000 people to flee across the Turkish border, but Turkey has resisted getting involved in the battle for Kobane. The YPG previously accused Turkey of collaborating with ISIS and some reports said the Kurds had teamed up with Assad's forces to fight the Sunni militants.
"The situation is not good. Kurds are not going to let it go," Kurdish affairs analyst Mutlu Civiroglu recently told International Business Times. "The perception in Kobane is that Turkey has been backing ISIS."
© Copyright IBTimes 2023. All rights reserved.
FOLLOW MORE IBT NEWS ON THE BELOW CHANNELS