Kobane: ISIS Militants Driven Out Of Town By Kurdish Fighters And Airstrikes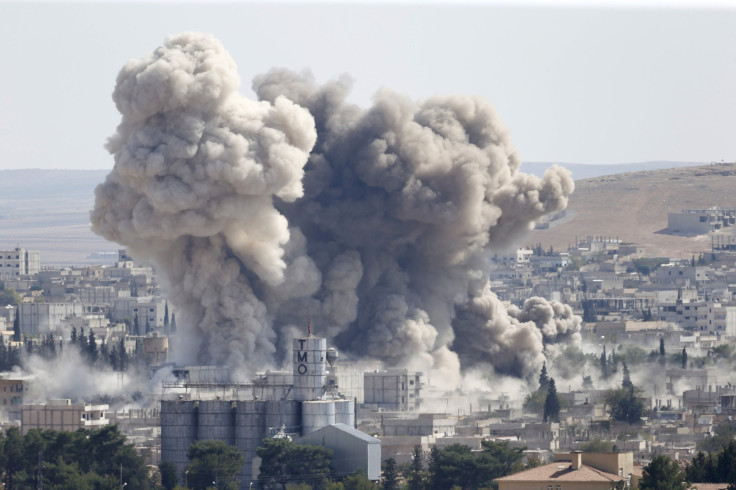 Kurdish fighters, assisted by airstrikes from U.S.-led coalition warplanes, have succeeded in pushing back militants of the Islamic State group from the Syrian border town of Kobane on Wednesday, the Syrian Observatory for Human Rights said.
"Their rear positions were hit in strikes, causing casualties and damaging at least four of their vehicles," Rami Abdel Rahman, director of the Observatory, reportedly said. "There are fierce clashes underway in the east of Kobane after the Islamic State launched an offensive to retake the areas it lost control of."
The Observatory said that at least three Kurdish fighters and 40 ISIS militants were killed in fighting along the eastern and southern edges of the town on Wednesday. As of now, the militants of the Islamic State group have lost control of the eastern and southern districts they had seized on Monday night, according to media reports.
"They are now outside the entrances of the city of Kobane. The shelling and bombardment was very effective and as a result of it, IS (Islamic State) have been pushed from many positions," Idris Nassan, a Kurdish official in Kobane, told Reuters. "This is their biggest retreat since their entry into the city and we can consider this as the beginning of the countdown of their retreat from the area."
Over three weeks of fighting near Kobane has so far killed nearly 400 people, according to media reports. More than 180,000 Syrians, mostly Kurds, have been forced to flee across the border to Turkey since the conflict in the region began.
© Copyright IBTimes 2023. All rights reserved.