Kobe Bryant Divorce: Kobe and Vanessa Through the Years [PHOTOS]
Kobe Bryant has been handed divorce papers from his wife, Vanessa, after over ten years of marriage. The couple has had a tumultuous time since they wed in 2001. Vanessa cited irreconcilable differences as her reason for leaving the Laker. TMZ is reporting that the real reason behind the split is, once again, his extramarital affairs. Kobe's infamous infidelity was revealed in 2003 when he was charged with the sexual assault of a Colorado woman.
She's been dealing with these incidents for a long time and has been a faithful wife, but she's finally had enough, the source told TMZ, adding, This one is the straw that broke the camel's back. TMZ reports that there was no prenuptial between the two. That means Vanessa will get to keep half of Kobe's $150 million fortune (which had previously been estimated at $400 million). She also has gotten possession of their Newport Coast, Orange County Cali., mansion.
Kobe met Vanessa, then Vanessa Laine, in November 1999 while on the set of his music video (which was never released). Vanessa was a back-up dancer for The Eastsidaz video for the song G'ed Up. The Laker began dating the young beauty and they got engaged in May 2000. Kobe was 21-years-old and Vanessa was just 17-years-old; she was still a senior in high school.
They married on April 18, 2001, despite the fact that Kobe's parents did not approve of the relationship. His parents believed they were too young to wed. No prenuptial agreement was signed. In 2002, Kobe bought a $4 million mansion on the Newport Coast in Cali. for him and his wife. Their first child, daughter Natalia Diamante, was born in January 2003.
Just two years after the union, in July of 2003, Kobe was accused of sexually abusing a 19-year-old Colorado woman at a hotel. Katelyn Faber accused Kobe of raping her in his hotel room at The Lodge and Spa at Cordillera in Eagle County. Kobe Bryant admitted to adultery but denied the accusation. A settlement was reached by the terms were undisclosed.
Vanessa stood by her man. The gorgeous brunette was later seen wearing a $4 million, eight-carat purple diamond ring after the extramarital affair scandal. This was a gift from Kobe for all of the troubles. In Oct. 2003, the Laker revealed a new tattoo bearing his wife's name.
The couple has flew relatively under the radar since then. Vanessa gave birth to their second daughter, Gianna Maria-Onore Bryant, on May 1, 2006. The family has been photographed together at various events, including NBA games and award ceremonies.
Obviously, though, trouble brewed in paradise, as more reports surface that Kobe's cheating ways ultimately led to the divorce filing. The 29-year-old supposedly had had enough of the NBA MVP and five-time champion's philandering ways. Vanessa will be represented by Laura Wasser and attorney Samantha Klein. Wasser has represented many other Hollywood heavyweights including Britney Spears, Angelina Jolie and Kim Kardashian.
Check out the slideshow of Kobe and Vanessa's relationship over the years.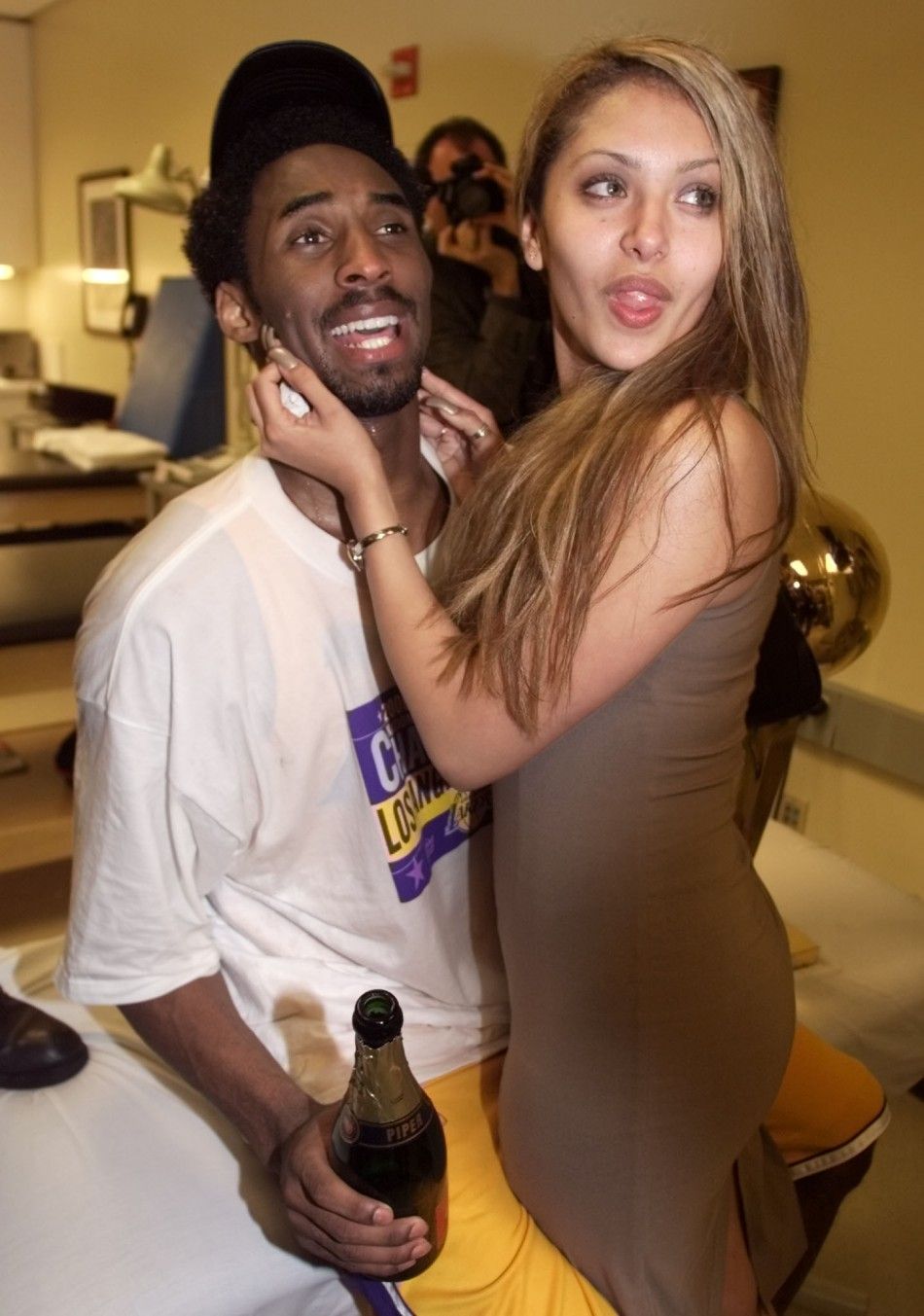 © Copyright IBTimes 2023. All rights reserved.