Kobe Bryant Explains Why He Stole Michael Jordan's Moves
KEY POINTS
Kobe Bryant has learned to emulate Michael Jordan's game
Jordan thinks Bryant can beat him in a one-on-one game
Magic Johnson once explained why the late NBA superstar was the closest thing to Jordan
The late Los Angeles Lakers legend Kobe Bryant had his own reasons for stealing Michael Jordan's eye-catching moves on the court.
Over time, Bryant evidently managed to emulate Jordan's game. It became a regular thing in the league, with people assuming he was just like any other NBA star who wanted to be as great as the former Chicago Bulls talisman.
In 2017, the five-time NBA champion unfolded the shocking truth behind the aspect of his game that made him a cut above the rest.
In an appearance on "Holding the Court with Geno Auriemma" podcast, Bryant, who has been officially retired for about a year at the time, bared that his competitive juices urged him to copy Jordan's moves.
According to Bryant, it happened during his first on-court encounter with Jordan. He was well aware that nobody has ever stopped MJ's one-on-one game and he wanted to see how "His Airness" would react if given a dose of his own medicine.
"I was thinking in my mind, I didn't care," Bryant recalled. "I'm going to destroy this guy. I don't care if I'm 18, I'm coming for blood. And the first thing he did, they ran a fifth-down sequence in the triangle. He caught the ball in the corner and he made his little pirouette spin that he does and sneaks baseline. I fell for it, and he went by me and dunked it."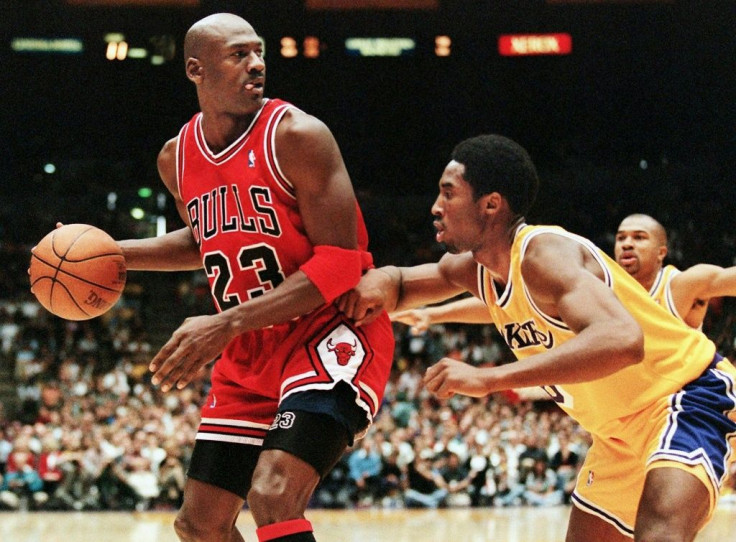 "I remember just laughing to myself all the way up the court," he continued. "I've seen that move thousands of times and I can't believe I just fell for it. And then after that, it was like, 'OK, let's get to work.' Every time I faced him I wanted to see how he was going to respond to his same moves. The best way I could figure out how to defend him was to see how he would defend himself if I hold a mirror up."
In 2013, Jordan subtly took a dig on Bryant for stealing his moves. As per the so-called basketball "GOAT," no one can beat him one-on-one "other than Bryant," suggesting the then-Lakers superstar might manage to obliterate him using his own playing style.
"If I was in my prime, who would I want to play one-on-one?" Jordan assessed during an interview with NBA 2K. "That list is very long. I'd start off with Jerry West, Elgin Baylor, Kobe Bryant in his prime, LeBron [James] in his prime, D-Wade in his prime, [Car]Melo [Anthony], that's a good start. I don't think I'd lose, other than to Kobe Bryant because he steals all of my moves."
Magic Johnson, who is a good friend of both Jordan and Bryant, shared his thoughts on the subject.
For Johnson, Bryant really was "the closest thing" to Jordan as he had all the qualities the six-time NBA champion had during his playing years.
"Kobe is the closest thing to Michael that we've seen," Johnson said on ESPN's "First Take" last year. "Why? Because he can score that basketball just like Michael Jordan. He had the same mindset and attitude just like Michael Jordan, he took no prisoners, he wanted to just put his foot on your neck and wanted to destroy you, mentally and physically, just like Michael Jordan and he wanted to have six championships, like Michael Jordan. He got close, he got five ."
© Copyright IBTimes 2022. All rights reserved.
FOLLOW MORE IBT NEWS ON THE BELOW CHANNELS