Kobe Bryant's Death Spark Famous Landmarks Paying Tribute
KEY POINTS
Kobe Bryant's death caused the whole world to mourn the loss
Several landmarks donned the Purple and Gold colors in honor of the Laker legend
Kobe Bryant was one of the most decorated NBA superstars to ever play the game
Heartbreak struck last January 26, 2020. When the news broke out of Kobe Bryant and Gianna Bryant's tragic deaths, the NBA and the entire world mourned the Laker legend. The five-time NBA champion was known as a tough competitor with Mamba Mentality as his mantra. He has inspired the next generation of basketball players with the same effort and thirst for greatness he deeply instilled.
As a way of honoring the Laker legend, landmarks and well-known destinations across the nation were full of tributes. Madison Square Garden donned the Purple and Gold colors of the Los Angeles Lakers during the New York Knicks and Brooklyn Nets matchup.
Kobe Bryant has had a number of memorable performances in the MSG. His biggest one was last February 2, 2009, where he torched the Knicks from every angle of the court. He ended up with an MSG record of 61 points.
In Atlanta, there were also stadiums and attractions that paid their respect for the Black Mamba. The Mercedes Benz Stadium lit up for the Purple and Gold while the College Football Hall of Fame displayed a Kobe Bryant tribute.
Back in Los Angeles, Santa Monica Pier and the light towers of LAX donned the Lakers colors. Kobe Bryant spent his 20-year career for the Lakers, being drafted straight out of Lower Merion High School in Pennsylvania. Throughout his career, Kobe Bryant has been a staple in LA and is one of the more influential icons in the city – with paintings and artwork of the star abundant.
The Grammys were also held in the home of the Lakers, the Staples Center. Throughout the program, the Grammys left the spotlight illuminated on the numbers 8 and 24 of Kobe Bryant.
His mural on the side of the Shoe Palace on Melrose Avenue became a shrine for his fans. Flowers and yellow post-it notes were put up to pay respect for their idol. Mamba Mentality transcends beyond just the athlete and has also moved towards how one lives life to the fullest. Kobe Bryant's influence is evident in how this mentality is echoed by anyone chasing greatness.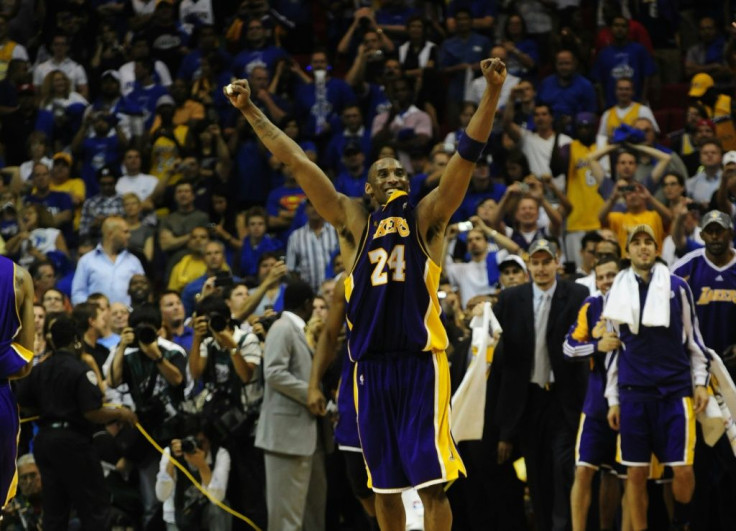 © Copyright IBTimes 2023. All rights reserved.