Koch Brothers Launch Into Lucrative Field Of Private-Equity Takeovers And Leveraged Lending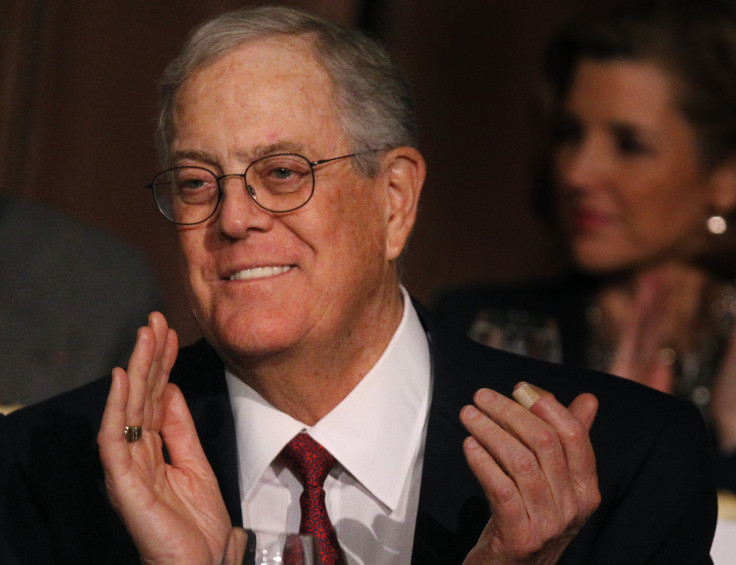 Charles and David Koch have a new business venture: leveraged buyouts. Koch Industries, Inc., the brothers' privately held company, will invest $100 million in a new fund created to finance takeovers of small and midsize companies.
As the Wall Street Journal reports, the Kochs are the first and only investors in Eaglehill Capital Partners, a company founded by former Citigroup bankers Michael Zicari and Jason Cunningham. The fund will initially provide financing for private-equity buyouts, but it hopes to become a player in the lucrative world of leveraged lending, which targets companies with sub-investment-grade credit ratings for high-yield loans.
Big banks have eased up on their leveraged lending operations as Wall Street regulators began focusing scrutiny on the field. The Federal Reserve has clamped down on underwriting standards, voicing concerns that the substantial volume of such liabilities could pose a threat to banks' balance sheets in a downturn.
With the likes of JPMorgan and Bank of America starting to turn their noses up at leveraged lending deals, the market has opened up to smaller upstarts. In November Eaglehill cofounder Zicari decamped from Citigroup's leveraged lending arm, which has seen its loan underwriting slide from third highest in the business to seventh since 2007.
Eaglehill joins a booming market. Despite increasing concerns from the Federal Reserve, total volume of leveraged loans hit an all-time high of $628 billion in 2014, up 21 percent from the year before. Goldman Sachs and private equity groups Blackstone and KKR have also launched so-called business-development companies, which finance takeovers of highly indebted small to medium-sized companies.
The investment is only the latest venture for the Koch brothers, whose sprawling conglomerate generates $115 billion in annual revenue in fields ranging from paper production to smartphone components. The money has helped the Kochs become notoriously generous campaign spenders, spreading their political influence from presidential elections to hyperlocal municipal contests.
Though Koch Industries is known primarily for its petroleum businesses, the brothers are no strangers to high finance. In 2002, the Kochs created a subsidiary, Koch Supply & Trading, which quickly rose to industry prominence for its commodities trades and securities products.
The field of leveraged lending, however, would be new for Koch Industries, which itself holds no net debt.
© Copyright IBTimes 2022. All rights reserved.
FOLLOW MORE IBT NEWS ON THE BELOW CHANNELS