Koch Brothers Try To Prove They Are Transparent By Revealing More Secrecy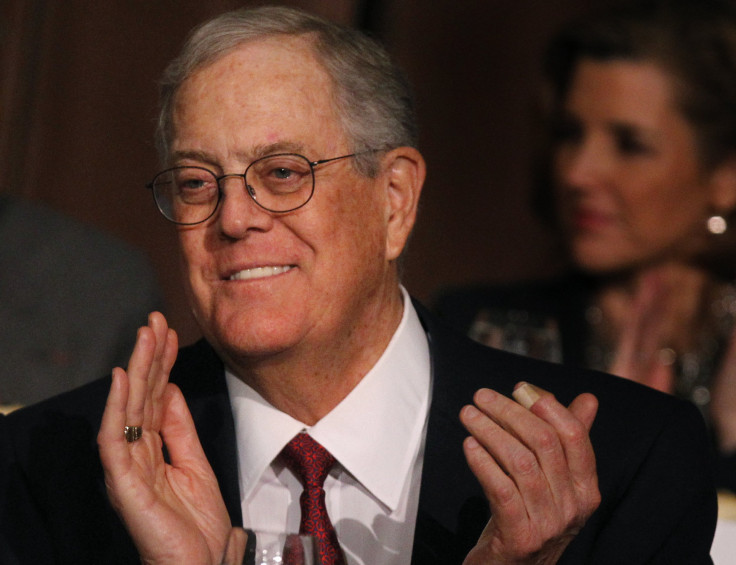 Billionaire brothers Charles and David Koch are famous for investing millions of dollars in conservative causes and candidates. But unlike other major Republican donors, the Koch brothers have a well-deserved reputation for secrecy because they use every possible trick in the tax code to hide their political activities.
In an apparent attempt to dispel this reputation, a Koch confident revealed to Politico that there is yet another layer of secrecy to the Koch brothers' money-shuffling schemes: a group called Freedom Partners that gives hundreds of millions of dollars to conservative groups.
Freedom Partners is a 501(c)(6), meaning it operates under the same tax rules as trade organizations that, most importantly, do not have to disclose their donors. Marc Short, the president of this previously little-known or understood group, revealed to Politico that it gave away $236 million dollars during the 2012 election cycle, with major donations going to other dark money groups with Koch brother ties. That means that an organization almost no one had heard of was the largest source of money for conservative groups last year.
While revealing this secretive group, Short, who shared with Politico a draft of an IRS filing the group intends to submit soon, took the occasion to portray the Koch brothers as undeserving of the negative treatment they get in the press. "There's a mystery around us that makes an interesting story," Short told Politico. "There's also a vilification that happens that gets exaggerated when your opposition thinks you're secretive. Our members are proud to be part of [the organization]."
But as Politico notes, they are not proud enough to reveal their names. In fact, by donating to conservative causes through Short's group, donors actually get an extra-layer of anonymity.
Even though donations to political groups are generally meant to be public, the Kochs funnel money through a number of nonprofit "social welfare" 501(c)(4) groups in order to keep their donors anonymous, even though the money is ultimately used for political purposes. (This happens on both sides of the aisle, but the complexity and secrecy, not to mention sheer amount of money, flowing through Koch-affiliated groups, receives special attention.)
The question is, if the Koch brothers are already able to move around anonymous money through a network of nonprofit 501(c)(4) groups -- groups that received the lion's share of the money parceled out by Short -- why did they create Short's business association in November 2011?
One possible answer is that they wanted the money going into the Koch web of groups to have an extra layer of protection against revealing their donors. As the Center for Responsive Politics noted on their blog, OpenSecrets.org, Thursday, 501(c)(4) groups could be compelled to reveal their donors by lawsuits from individual states that Freedom Partners, as a trade organization, would not be vulnerable to. If a state's attorney general was successful in forcing one of the Kochs' groups to reveal its donors, it would be stymied if that donor turned out to be Freedom Partners rather than the individuals who donated.
"[A]ttorneys general in other states, such as New York, also have been attempting to force such groups to identify their donors," the OpenSecrets blog post noted. "The use of a 501(c)(6) like Freedom Partners could help keep dark money stay dark. Business associations may not fall within the charitable trust jurisdiction of state attorneys general, so the arrangement could help stymie states' efforts to shed some light on who is behind the organizations."
Laws limiting the political activities of these groups can also be easily circumvented, allowing donors to essentially make political donations anonymously. "Neither (c)(4) groups nor (c)(6)s are supposed to be primarily political, but both types have asserted that providing grants to other organizations -- even if those groups spend some of their resources on political ads -- is not political activity," according to OpenSecrets.
While revealing this extra layer of secrecy, Short tried to portray his ultra-secret donors as normal rich people who are "concerned that the nation that they grew up in and that their businesses have flourished in will not be there for their children and grandchildren," and are "committed to trying to restore what they view are free markets in a free society in America." He described them as "Horatio Alger-type stories" who got rich by starting their own businesses. These member donors are drawn from the Koch's semiannual conferences, according to Politico, and the group's five board members all enjoy close ties to the Kochs.
It makes sense that Short would want to disclose Freedom Partners' activities in a manner that seems transparent. But the disclosure itself is that the donors behind the Koch brothers' activities are more protected from discovery than previously thought.
© Copyright IBTimes 2023. All rights reserved.